By Mark Ellis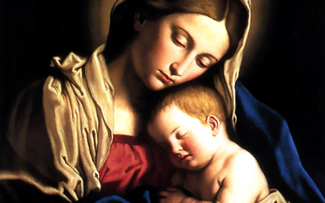 Her glorious position among Roman Catholics cannot be understated, while evangelicals tend to minimize her role in their devotional life. But her role in heaven speaks to a unique calling, according to the father and son behind the blockbuster movie Heaven is for Real.
When doctors inexplicably missed four-year-old Colton Burpo's burst appendix, and the resulting infection nearly took his life, his father, Todd, railed at God as Colton's life seemed to slip away. After the fair-haired boy made a remarkable recovery, Colton's parents realized something very unusual happened to their son as doctors fought to save his life.
Colton shared with his astonished parents that he left his body in the hospital and visited heaven, where he sat on Jesus' lap and met departed family members, along with other extraordinary details.
"When people say Colton met his little sister, he's quick to correct them," says Todd Burpo. "He says, "She was not my little sister; she was my big sister,' referring to a baby miscarried by Colton's mother Sonja.
"She was never born, but she aged to where she was Colton's big sister," Todd notes. This unnamed sister waits in heaven for the rest of her family to arrive, when they will delight in finally giving her a name.
It appeared to Colton that babies gradually age to their late twenties or thirties in heaven, while older people regain youthful bodies. "There is no death or dying in heaven," Todd notes. "Colton's memory is that you age to your prime and then you stop aging." Colton's great-grandfather appeared to be a man in his thirties, having reverted in age.
There are "gobs" of children and babies in heaven, Colton reported to his parents, but it remains unclear whether this is due to abortion or natural deaths.
"The women in heaven – especially Mary – are involved with raising the kids," he says. "A lot of the ladies in heaven help these children, they raise them and they're with them."
According to Colton, Mary, the mother of Jesus, has dark hair, brown eyes, and is a little taller than his mother.
Mary wore a robe with a dark, sky-blue sash.  Colton described a light, or halo-effect, above her head. She seemed to be in her late twenties, like the other adults in heaven.
"How many people at funerals have this hope or this dream that my grandmother in heaven is watching my child, or my mother that went on is already there with my baby that didn't make it?" he asks.  "Colton said, 'Dad, that's how it is.'"
"Colton said, 'Your grandpa was taking care of me in heaven and he was taking care of my sister too.'"
To listen to this raw telephone interview on the Best of the God Reports interviews podcast, click here:https://www.youtube.com/watch?v=LBnbuZy3XOY