By Mark Ellis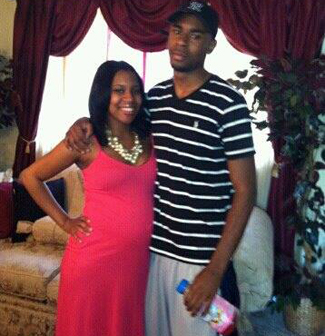 Lakisha Wilson, 22, passed away following a late-term abortion March 21st at the Preterm abortion facility in Cleveland, Ohio.
Wilson was transported by ambulance to University Hospitals Case Medical Center shortly before noon on the 21st, where she was treated, expired and was pronounced dead on March 28th, according to a statement released by the Cuyahoga County Medical Examiner's Office.
Based on a recorded 911 call and eyewitness accounts, she was not breathing when she left the abortion facility, and emergency personnel were not making efforts to resuscitate her on the gurney.
Dr. Richard Ivan, a retired dentist, stood nearby when the young woman was brought out from the abortion facility about 11:20 a.m. on March 21st.  "I was two feet away from the gurney. That girl was dead," he says sadly.
"There was no protection over her head, no mask on her face. They were in no rush to get her out, which tells me she was beyond help. There were no lights (or siren on ambulance) going to the hospital."
Wilson was placed on life support at the hospital in order to harvest her organs, but was already "brain dead" when she arrived, according to information received by Cheryl Sullenger, senior policy advisor for Operation Rescue.
An autopsy is being conducted and a cause of death is pending, however there is every indication her death was caused by the late-term abortion.
Operation Rescue reported earlier that it obtained 911 records indicating a woman died after an abortion at Preterm. Those records stated she was "not breathing at all" and had suffered "Cardiac or Respiratory Arrest/Death."
Wilson was in the later stages of pregnancy, and because of that was turned down by abortion clinics in Columbus and Akron, according to information gathered by Operation Rescue from those on the scene and individuals contacted by Wilson's family.
Preterm conducts surgical abortions through 22 weeks of pregnancy, according to their website.
"We wish to express our deepest sympathies to Lakisha's family for their devastating loss," said Troy Newman, President of Operation Rescue. "We have filed complaints with the Ohio Medical Board and with the Ohio Department of Health. We call on the ODH to immediately suspend Preterm's clinic license pending a full investigation into Lakisha's death."
Records obtained through a public records request, show that at 10:59 a.m. on March 21st, an employee of Preterm dialed 911 and reported to a dispatcher there was a 22-year-old female patient at the clinic who was not breathing.
The caller also indicated that the patient was unconscious and receiving CPR at the time of the call, but efforts to restart respiration had been unsuccessful.
The CAD transcript, which lists the event's chronology, showed that an ambulance was dispatched just moments after the 911 call began and that it took paramedics three minutes to arrive at the clinic at 11:02 a.m. when they began emergency measures.
At 11:21, paramedics transmitted information about the patient's condition to the University Hospital Case Medical Center and began to transport her to the emergency room. They arrived at 11:26 a.m.
At no time during the 28 minutes that emergency responders were in contact with the patient was there any indication that the patient ever resumed respiration.
The CAD Transcript contained the "9-E-1," the most serious of life-threatening medical emergencies, along with the notations "Cardiac or Respiratory Arrest/Death" and "Not breathing at all."
Pastor Dale Henkel was also at the scene and took video and photos of the incident, which have been released by Operation Rescue in a video that also features the 911 audio. He said about 80 percent of the high-volume clinic's abortion business is performed on African Americans.
The video clip showed that emergency workers were not performing any treatment on Wilson as she was wheeled out to the awaiting ambulance.