By Mark Ellis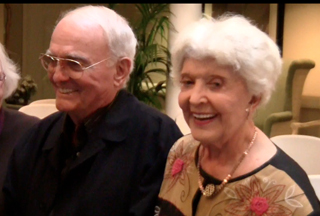 Married for close to 50 years, it seemed only appropriate to Felipe Alvarez to sing love songs to his wife Margia on Valentine's Day. His idea for a short concert of love songs sung to Margia turned into a Valentines party at the seniors community where they live in Dana Point, California.
He chose as his final song Puccini's "Turandot-Nessun Dorma," recorded in the YouTube video attached below.
Margia views husband Felipe as a renaissance man, who not only excelled as an architect, but in the many creative outlets he nurtured over the years, including painting, writing, photography, and singing.
Christened Marguerite Skliris, her family came to America from Greece in 1913. She took the stage name Margia Dean after she became a working actress. One of her first theatrical roles at age seven was Becky Thatcher in "Tom Sawyer."
She also competed in several beauty pageants and became "Miss San Francisco" "Miss California," and was a runner-up for "Miss America."
Her first leading role was in the film Shep Comes Home (1948) co-starring Robert Lowery. She also co-starred in Red Desert (1949), The Lonesome Trail (1955), Villa!! (1958) and the cult classics The Quatermass Xperiment (1955), Seven Women from Hell (1961) and (her last) Moro Witch Doctor (1964).
She also appeared in Living in a Big Way (1947) starring Gene Kelly, Take Care of My Little Girl (1951) with Mitzi Gaynor and The Revolt of Mamie Stover (1956) with Jane Russell.
Felipe had his own TV show in Brazil, "The Romantic Hour," for several years. Also, he sang in several HBO films and gave a flamenco concert at the Shrine Auditorium.
"Many singers lose their voice in their 70s," Margia notes. "But Felipe is still singing as well as he did years ago."