By Mark Ellis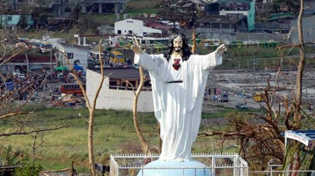 In what some may consider a miracle, a statue of Jesus Christ survived the massive damage and destruction caused by typhoon Haiyan in the city of Tanauan.
With as many as 5,000 feared dead in the hard-hit region, the statue of Jesus, with his hands raised, provides a symbol of hope and comfort to those fighting to stay alive.
Tanauan hugs the coastline, and received a direct punch from Haiyan, so residents have been forced to forage for basic rudiments including food and clean water.
As many as 600,000 people have been affected by the typhoon, according to local authorities, but many remote areas are still inaccessible due to landslides and fallen trees.
Relief workers sent into the area say as many as two out of five victims is a child.
"We are witnessing the complete devastation of a city. In Tacloban everything is flattened. Bodies litter the street, many, many of which are children. From what I saw, two out of every five bodies was that of a child," according to Lynette Lim, who works with Save the Children.
"Children are particularly vulnerable in disasters. We fear for how many children have been washed away in floods, crushed under falling buildings and injured by flying debris," she added. "Many are separated from their families amid the devastation, and all are in desperate need of food, water and shelter."
Some say as many as 25 million people have been affected by the ferocious storm, with local reports describing homes damaged, trees uprooted, and a storm surge of over 20 feet that pushed ashore, fueled by gusts over 200 mph. Authorities estimate 500,000 may be homeless in the aftermath.