By Mark Ellis —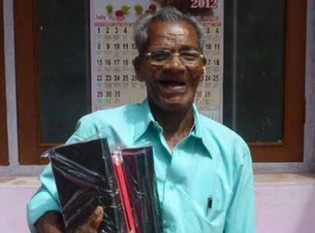 His family came from the lowest rung of Indian society, the Dalit or "untouchable" class, and his involvement with criminal activities almost cost his life. But after his lifeless body moved in the morgue, Jesus also came into his heart.
"He and his family were worshipping Hindu idols and witches," says Paul Ciniraj, the founder of Paul Ciniraj Ministries. As a young man, Kunjukunju "Mr. K," was powerfully built, his face marked by a prodigious horn-like mustache draped around his mouth. He worked as a 'goonda' or hired thug for several wealthy individuals.
As an enforcer for their questionable enterprises, Mr. K made his share of enemies. One day several aggrieved victims of his strong-arm tactics decided to get even. A mob of 20 people surrounded Mr. K and brutally attacked him. His body, covered with wounds, fell to the pavement, completely unresponsive. They thought he was dead so they left him lying there and ran off.
Police found Mr. K's battered body in the street and checked his vital signs. When they found nothing, he was transported to the morgue. On the post mortem table, a medical examiner performed a routine inspection and was shocked when one of his toes moved.
Astounded by this – and now detecting a faint pulse — he immediately transferred Mr. K to a local hospital.
After he regained consciousness, some evangelists visited Mr. K in his room. They told him Jesus loves him and that only Jesus can conquer death, demonstrated by His bodily resurrection from the dead.
Given for dead – like Lazarus – he could see that God had imparted a second chance at life.
They clearly explained the message of the Gospel. He followed their words carefully, nodding his head. With his heart overcome, he repented of his sins and accepted Jesus Christ as his personal savior and Lord.
The pastors put their hands on his head and prayed. While they were praying, Mr. K had a vision that Jesus smiled, held out his arms, and pulled Mr. K in closely for a hug. With childlike faith, he trusted that he could lean on Jesus for the rest of his life. The Lord imparted a deep settled peace to his heart and mind.
After he left the hospital he was baptized, God anointed him with the Holy Spirit, and showered him with fruits of the Spirit.
As Mr. K grew in the Lord, he began to speak in churches, prayer meetings and corner meetings. He also began distributing Bibles with Ciniraj Ministries. Now he is known as Kunjukunju Upadesi. "Upadesi" means adviser or gospel preacher.
If you want to know more about a personal relationship with God, go here