By Mark Ellis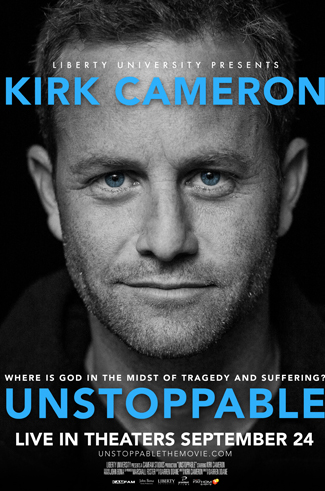 Actor Kirk Cameron considers his new film project, UNSTOPPABLE, one of the most unique of his entire career. It forms the centerpiece of a live event at Liberty University on September 24 – and broadcast live via satellite to theaters around the country.
"It's by far the most personal project I've ever made regarding my faith," says Cameron. His motivation to embark on the film stems from the untimely cancer death of a 15-year-old friend this year. After the funeral and burial of his friend, Cameron began to reflect on questions universal to the human experience.
Where is God in the midst of tragedy and suffering? he wondered. Why does he let bad things happen to good people?
"These are questions that have destroyed many people's faith and baffle so many," he notes. His pondering led to the UNSTOPPABLE film, which he believes will "give people hope and inspiration and a reason to continue to trust God through difficulties."
UNSTOPPABLE will be broadcast to nearly 700 cinemas nationwide from The Vines Center at Liberty University in Lynchburg, Va., on Tuesday, Sept. 24 at 8:00 p.m. ET / 7:00 p.m. CT and tape delayed at 7:00 p.m. MT / 8:00 p.m. PT/AK/HI. Tickets and theatre locations are available online at www.unstoppablethemovie.com.
The film generated an initial controversy when Facebook and YouTube blocked access to the film's trailer, labeling it as "unsafe" and "abusive."  Over half a million of Cameron's fans rallied to protest and after several days, both social media sites relented.
"It's easy to get excited about your faith when things are going well," Cameron notes. "But when tragedy hits out of nowhere it can be the thing that destroys your confidence and ability to move forward in life."
Cameron disagrees with those who believe God either lacks the power to intervene or simply doesn't care. "God is not distant, off on a cloud playing golf while we're down here suffering," he says. "He is in the middle of it. He has tasted it. He understands and He can help."
"Through the history of the world, tragedy has always been a part of the story," Cameron observes. "God has never taken His hands off the wheel, He's been steering it the whole time, to work all things together for good for those who love Him."
Cameron realizes academic answers often fall short in the midst of suffering. "I can answer questions intellectually, but it doesn't help the wounded soul of a mom who just buried her child. She needs to feel the presence of the Lord in the midst of that, because He is the answer."
"I invite you to come along with me as I tackle this subject in a very creative and unique way."
In addition to the film, the evening will feature an introduction from Cameron, music performances by Warren Barfield and Mandisa, as well as surprise guests from the faith-based community to engage attendees in discussion.