From Partners International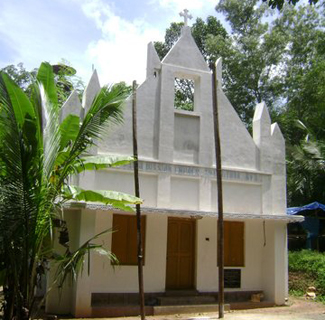 Our partner Bible Faith Mission in India reported this week that two new church buildings for Dalit ("untouchable") congregations are nearing completion. Both are located in Kerala state; the first is in Dalumugham village where 40 families are worshiping.
Pastor Chellappan Vijayakumar is the pastor of the church in Dalumugham and helped oversee the construction project. "The poor people of our church worked hard during the construction," he said. "Though they were in financial crisis due to the winter and rainy season, they were able to give and work in the church building. They prayed earnestly for the completion of the church. Each day, one family brought the mid-day meal for the construction workers."
On Sundays and holidays they came and worked, even the school students helped. On Sundays after worship, all the believers did some work on the building. I praise God for the opportunity to take leadership of the construction project. Thank you very much for your prayers and support."
A second church building in Thathiyoor village (pictured) is complete and will be dedicated to the glory of God on August 25. The Dalits in this community have gone through tremendous caste oppression. Some did not even have the freedom to attend church at times due to pressure to return to Hinduism. We praise God for the faithfulness of these Dalit believers and for your gifts which made the dream of these two worship centers a reality.
This building is one of BFM's larger church buildings and was established as a centenary memorial church building in celebration of Bible Faith Mission's 100th anniversary. The dedication of the church will take place October 9 with honored guests from our church partner, Tree of Life Church, in California.