By Joe Torres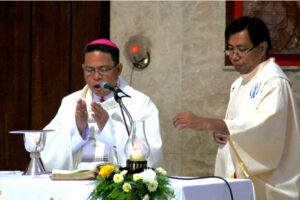 The Catholic bishop of Basilan in the southern Philippines is calling for gutsy priests as volunteers to work in the island province which has been torn by violence for years.
Only 16 priests serve in the prelature's 10 parishes, according to Bishop Martin Jumoad. "They're not enough, especially because of the challenges and threats to the lives of the clergy," he said.
Basilan is a rugged, jungle-clad island in Mindanao and a known stronghold of the al-Qaeda-linked Abu Sayyaf group that has been blamed for terror attacks in the country and the kidnapping of foreign nationals.
The island has been dubbed by the US military as its "second front" in the war against terror, although according to Jumoad, the province has been "relatively peaceful" in recent months.
All priests in the province have to be constantly escorted by soldiers to avoid abductions and assassinations. Several members of the clergy have been kidnapped and even killed in the past.
The prelate admitted that the situation is "not stable," despite the recent peace deal signed by the government and the rebel Moro Islamic Liberation Front.
But still, Jumoad is against having bodyguards. "If the ordinary people have no security in terms of armed security men, it is not good for priests and bishops to have armed men around them."
Missionary priest Elmer Cantular, of Tumahubong village in Sumisip town, said in jest: "One benefit of being a priest in Basilan is that your life will not be boring."
The Filipino government has been pressured to bring an end to the violence in Mindanao, where an insurgency has continued over decades. A recent wealth-sharing deal between the government and the MILF is considered a major step along the path to peace.
Please pray for the salvation of the Muslims in the Phillipines, that God's love overwhelms them; and for the safety of all Christians and those working in ministry there. –www.Ucanews.com