By Mark Ellis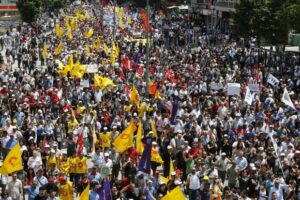 As protests spread to 61 of Turkey's 84 provinces, Turkish Prime Minister Erdogan rejected criticism by the European Union over his government's excessive use of force.
"Similar protests have taken place in Britain, France, Germany and bigger ones in Greece," Erdogan told reporters. His government is open to "democratic demands, but would not accept "terrorism, violence and vandalism."
The protests started when a small group of activists attempted to stop the demolition of Gezi Park, one of Istanbul's last green spaces. About 50 people set up a camp among the trees. Riot police moved in with brutal force, using teargas on peaceful protesters. Three people have died since the protests began, 4,000 have been injured, and 900 arrested.
"The nation of Turkey is in an uproar," says Joy Edwards, with Aslan International. Edwards is the daughter of Canadian missionaries in Turkey, ministering there for 26 years. "Over 240,000 people are protesting the government," she notes.  "It's mostly young people looking for change."
Edwards decries the force used by police against peaceful demonstrators. "They are kicking people, using teargas, and using nail-studded bats," Edwards reports. Three "bombs" were detonated in front of one of the churches closely associated with their ministry. Pepper gas spray also entered another Turkish pastor's home, she says.
Because of her father's ministry, he has been harassed and arrested by police 50 times in the last several years. "As believers, we face this regularly. We have to be careful because we're under scrutiny. Now it's nationwide."
"Everywhere people are taking to the streets, banging pots and pans till early morning, and shouting slogans. It started out peacefully, but the protestors have reacted to the excessive police force and brutality," she notes.
The demonstrators – mostly younger people 25-35 years old – are against Erdoğan's neo-Islamist social agenda and his severe governing style. Since he was re-elected in 2011 with a hefty majority, Erdoğan has passed laws that inflame Turkey's secular middle classes. He restricted the sale of alcohol after 10pm and banned it's sale near schools and mosques.
The government also shut down the internet in the vicinity of the protests in Istanbul, according to Edwards.
Aslan International has distributed over 500,000 New Testaments in Turkey since their ministry began. Edwards calls on believers around the world to pray in response to a new openness she senses among the Turkish people.
"We know we need prayer," she says. "Hearts are opening to God. It's not just about us doing things, but God moving supernaturally to change hearts and open hearts."
"When you raise up prayer, that's how God will change our nation."