By Mark Ellis
A skimboarder saved a baby's life at a Southern California beach after a large wave knocked the child from her mother's arms and she was in danger of being swept out to sea, according to witnesses.
"I was at Aliso Beach shooting photos of my son Connor skimboarding," says Craig Brashier, who caught the rescue with his camera. "It was pounding down there and lots of the skimmers were going down hard."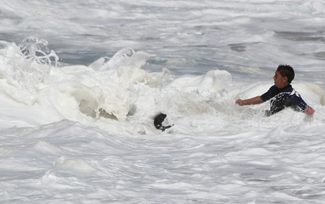 "Suddenly, out of the corner of my eye I saw three skimboarders throw their boards to the side and charge north up the beach. I wasn't sure what was going on but I started taking pictures," Brashier says.  He used a 300mm telephoto lens to capture the images.
The young mother had her back to the waves when she got hit. "Apparently a lady was not paying attention to the surf while holding her baby and dropped her when she got hit by a wave from behind. The backwash instantly engulfed the baby and swept her back into the ocean," Brashier recounts.
One of the three skimboarders who raced up the beach, Pat Watson, dove in and found the baby in the frothing surf.  He grabbed the baby
as they were hit by another large wave.
"He lifted the child to the surface as he came out of it, knowing the infant had not had a breath for the last three waves," Tex Haines told the Laguna Beach Independent Newspaper . "He fought his way upstream in the rip and handed the child back to it's mother."
"It was quite an incredible act of heroism," Brashier says.