by David Roach —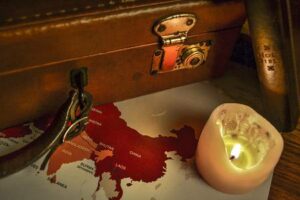 When Chinese parents send their child to an American university, they expect her to return home with a degree and the opportunity to begin a career. But one student from central China returned home with much more.
After attending a Baptist university, "Wenny" brought home a transformed life just over a year ago — sharing a message about Jesus that transformed her parents as well.
Having committed her life to Christ as a student at the University of the Cumberlands in Williamsburg, Ky., Wenny returned to her hometown of Wuhan in late 2011 and found a Christian church to attend. An opportunity to share her testimony during a worship service arose, and she invited her parents. When the pastor called people to commit their lives to Jesus, Wenny's parents responded.
"They accepted Christ, and I was so surprised," Wenny told Baptist Press, "because I thought it would take a lot of time — two or more years — for them to accept Christ. But it happened on that day."
Dean Whitaker, Cumberlands' director of campus ministries and Baptist Collegiate Ministry, said it's just one example of the worldwide impact of BCM.
"The world literally comes to our doorsteps through our campuses every semester," Whitaker told BP in an email. "… When we reach one international student with the Gospel and discipleship, we become missionaries throughout the world through them. Wenny is a beautiful example of God's sovereign hand drawing people into relationship with Him to advance His Kingdom to the ends of the earth."
In August 2008 when Wenny began her college studies in America, she seemed an unlikely candidate to embrace Christianity — much less take it back to China. An atheist, she "thought Jesus was a western Buddha or a character from a story, like Cinderella or Snow White." She also "thought the people who believed in gods were absurd."
But God was at work. When Wenny decided to study in America, her second cousin who lived in Canada helped find a university and make all the necessary arrangements for her to attend. However, the cousin went into a coma from brain cancer before Wenny arrived to see her in person. She never revived and soon died.
Amid her grief, Wenny learned that her cousin was a Christian and that her university was a Christian school. Wenny still wonders whether her cousin's help was an intentional act of Christian witness.
"After I had been there for one month, I realized that almost everybody tried to tell me about Jesus and wanted to take me to church," Wenny recounted. "I had a thought that all Americans are Christians. And then my friend told me that our college is a Christian school… I was surprised because I never thought about going to a religious school. But the people at the school were very kind, so I was OK with the Christian part."
A conversation with chapel speaker Ray Sydnor, a former NFL player turned evangelist, was a key moment in Wenny's spiritual journey. In response to her claim that the Bible was not true, Sydnor presented historical evidence to substantiate Scripture. And in response to her claim that the world came into existence by chance, he pointed to the apparent design in the universe.
"Ray's words moved me, and I started to think that the Lord may be real," Wenny said. Caring believers continued to share Jesus with Wenny until the cumulative effect helped bring her to salvation while attending church in April 2009.
"When people were singing worship songs, I suddenly believed in God," Wenny said. "So I prayed. When my eyes were closed, I felt that it became bright in front of me. I opened my eyes and saw sunshine. The light went through the window and shined on me. I don't know how to explain how it happened; my heart was suddenly open and I believed. Later when people asked me how I believed in God, I said God found me. He built a temple in my heart and lived there."
Soon Wenny was baptized at Main Street Baptist Church in Williamsburg and began to grow in her faith, learning to trust God as He provided for her needs time and again.
When she didn't have a place to live during the summer, a professor asked her to housesit while he went on vacation. When she lacked money for tuition, she saw God's provision of a job. And when she graduated from UC in 2010, a stranger was stirred to let Wenny live in her house in Nashville, Tenn.
"After I lived with her for two months," Wenny said of her hostess, "she told me that the first time she met me she had a strong feeling that the Lord wanted her to help me."
Wenny stayed in Nashville for 10 months, gaining confidence and maturity in her faith through the ministry of a local church, before returning to China on the last day of 2011 with a desire to help her friends and family find Jesus.
Her parents' commitment to Christ seems genuine and enduring, Wenny said, because they continued to attend church in China even after she returned to America this winter to pursue a master of business administration degree at Lamar University in Beaumont, Texas.
As for the future, Wenny is not sure of her plans but wants to "serve people," perhaps as a missionary. Taking the Gospel back to China was a blessing even when people didn't accept the message, she said.
"I had some chances to talk with them [Chinese friends and other family members] but they didn't accept," she said. "But anyway they listened … which is still better than nothing." –Baptist Press
If you want to know more about a personal relationship with God, go here
"Wenny" is a nickname. Her full name is withheld for security reasons.