By Mark Ellis —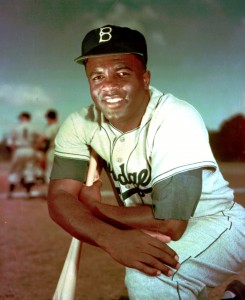 The biographical film "42" depicts Jackie Robinson's courageous battle to break the color barrier in major league baseball. At the same time, the film provides a glimpse of his religious faith, which afforded the strength he needed to overcome fierce opposition.
"It took two Christians to pull this off," says Chris Lamb, the author of "Blackout: The Untold Story of Jackie Robinson's First Spring Training" (University of Nebraska, 2004). "Robinson was a Christian and Branch Rickey was a Christian," he notes. "Sometimes we miss this."
Lamb was blind to it himself until he researched Robinson's life for his book. "I kept wondering all these years what kept Robinson together," he says. "Finally I realized what I missed before – the core came from above."
The film accurately depicts the role of Brooklyn Dodgers President Branch Rickey in advancing desegregation in baseball. Rickey, a devout Methodist, was sometimes known as "the deacon" due to his forthright convictions.
"It was in every part of him," Lamb says. "He spoke often about his religion. You could see him across the room and even with the cigar smoke, there was a warm glow."
As an athlete, Rickey was demoted from the major leagues to the minor leagues, because he refused to play baseball on Sundays, according to Lamb.
"His religion was not a coat he put on and took off at night," Lamb says. "It was a part of his skin, and he took it with him wherever he went."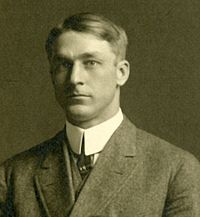 There was one searing incident four decades before Robinson came along that altered Rickey's perspective on racial integration. Rickey coached Ohio Wesleyan's baseball team, and his star catcher Charles Thomas – the only African American on the team — was denied lodging at the Oliver Hotel in South Bend, Indiana on the eve of a game against Notre Dame.
"Blacks and whites couldn't stay in the same hotel room," Lamb notes. But Rickey approached the front desk clerk and asked if Thomas could stay in his room on a cot. The clerk reluctantly agreed to make an exception, but when Rickey went to their room later that night he found Thomas crying, rubbing his skin.
"If only I could make it white," Thomas said. "If only I could make it white."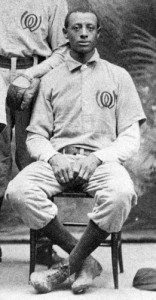 "It looked like he was trying to rub off his skin," Lamb recounts. At that moment, Rickey made a vow before God that if he ever had the opportunity to do something about racial injustice, he would do it.
Forty years later he got that chance when he invited a young player from the Negro leagues into his office. In their first encounter, Rickey wanted to know if Robinson was made of the right stuff, because he knew whoever was chosen first to break the color barrier would endure awful indignities.
"I'm looking for a ballplayer with guts enough not to fight back," Rickey told Robinson. Then Rickey opened up a book he had sitting nearby, "Life of Christ," by Giovanni Papini.
He read the words of Jesus to the promising athlete: "But whoever shall smite thee on the cheek, turn to him the other also."
Even though Robinson's father abandoned their family when he was only a child, these words were familiar because of the influence of a godly mother. "I have two cheeks, Mr. Rickey. Is that it?" he replied.
When Robinson was a teenager veering into trouble in the streets, he was taken under wing by Rev. Karl Downs, minister at Scott United Methodist Church in Pasadena. He counseled the young man and became a father figure. "Pretty soon Robinson was teaching Sunday School," Lamb notes.
The influence of a godly mother and Rev. Downs left a lasting mark. "Robinson wore his religion quietly, but it was sincere," Lamb says.
In the Negro leagues, Robinson developed a straight-laced reputation. "He didn't engage in premarital sex and he didn't drink," Lamb recalls. "There was a quiet strength that put him at odds with his teammates."
On one occasion, Robinson took a glass of whisky and dramatically tossed it into a lit fireplace in front of his astonished team. "This is what liquor does to you," he said, as the flames roared in a vivid display of alcohol's combustible properties.
In the first providential meeting between Rickey and Robinson, the Dodgers executive discovered that Robinson had built his life on the right foundation. "Rickey sensed that Robinson had a strong central core that could hold together in the face of the storm." The core – the indwelling presence supplying the faith and assurance — was Jesus Christ.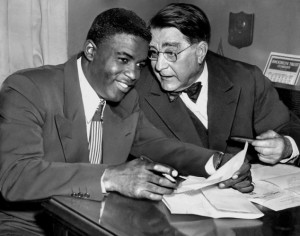 "I'm a Methodist. Robinson is a Methodist, and God is a Methodist," Rickey exclaimed after the meeting. Sensing it was all more than a coincidence, their common faith gave both men the assurance to forge ahead in the face of certain opposition.
Horrible invective was hurled at Robinson during his first Spring training with the Brooklyn Dodgers in 1946. "He had to deal with 10 kinds of awful indignities every day," Lamb recounts. It got so bad, Robinson's wife delayed telling him she was pregnant, because she didn't think he could handle the news, according to Lamb.
"You can't tell the civil rights story without Jackie Robinson and you can't tell the Robinson story without the civil rights movement," he observes. "Martin Luther King taught non-violent resistance, but Jackie Robinson did that 20 years before."
Lamb sees the Jackie Robinson story as almost biblical. "When you think about where the strength comes from, it becomes a parable, a Christian story," he notes. "It's like something out of the New Testament."
If you want to know more about a personal relationship with God, go here