By Mark Ellis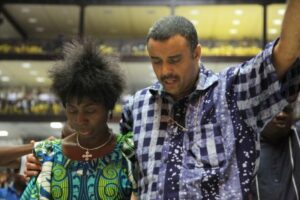 Dag Heward-Mills was born in the UK to a Ghanaian lawyer and Swiss mother, but grew up along the coast of Ghana where he gave his life to Jesus Christ as a teenager.
While still in medical school, he answered a call into ministry and began holding meetings in vacant classrooms at the school. These meetings became the nucleus of the first Lighthouse Chapel, which has grown exponentially to over 1200 churches in 60 countries under his leadership.
In his new book, Loyalty & Disloyalty (Carpenter's Son Publishing) Heward-Mills identifies a qualification for church leaders and their flock that is vital, but often overlooked: loyalty.
Heward-Mills gave up his medical career to serve the Lord, but early in his ministry, he saw firsthand the destructive nature of disloyalty, which often began with the quiet rumble of gossip, murmuring, and criticism directed toward his leadership as a youthful pastor.
"Is he really called?" some in his church asked.
"Can a medical student be a pastor?" others wondered aloud.
Some thought he moved around too much behind the pulpit when he preached. A few thought he used too much Scripture in his sermons. Others thought he used too little.
As some of these comments made their way to him, he got so nervous prior to his weekly services he frequently had diarrhea from Saturday night to Sunday morning.
"It almost wiped me out," Heward-Mills recalls. "This critical atmosphere almost broke up my fledgling church."
He notes that early in the Scripture, God reveals his disdain for a critical spirit, when Miriam is struck with leprosy after she and Aaron criticized Moses.
Heward-Mills describes a particularly dangerous stage of disloyalty, which he identifies as the "political" stage, when a disgruntled person begins to gather a following.
David's son Absalom became unduly critical of his father's policies and began to involve others in his disloyal scheming. "Disloyal people have an insidious way of discussing the shortcomings of their leaders," he notes. "They complain and criticize behind the scenes."
"My 20 years in ministry have brought me face-to-face with loyal and disloyal people," Heward-Mills says. He feels the subject of loyalty is often an overlooked teaching in the church, but one pastors ignore at their own peril.
The book offers five keys to shaping a culture of loyalty within the church, how to recognize the stages of disloyalty, and how to use a cleansing "north wind" to calm divisive storms that threaten to undermine a church.
"Only through God's undeserved grace can I share my passion to see His church flourish," Heward-Mills says. "Through His guidance, I want to give other pastors a chance to get on board and experience the blessings that authentic loyalty can truly bring."