By Mark Ellis —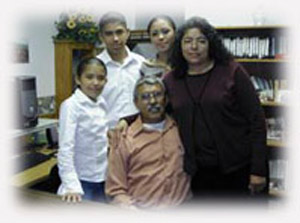 After killing a man during an armed robbery, Edward Salazar Mauricio knew he might face the electric chair in Texas, a state that often wields the sword of justice with finality. By God's grace he received a life sentence, but he hated and even viciously attacked Christians who attempted to witness to him in his prison cell.
Eventually, however, the power of God's Word penetrated his heart and brought changes he could never have imagined.
Mauricio was the youngest of five children born to a shoemaker and his wife in San Antonio, Texas. He had some awareness of God through his Roman Catholic upbringing, but this exposure failed to make a difference in his life. "I confessed my sins before a Catholic priest, said a few 'Hail Marys' and 'Our Fathers' and continued on in my life without any internal change whatsoever," he recalled.
"No one ever told us about Jesus' atoning death for a lost humanity."
Before he was six-years-old, his parents separated due to his father's alcohol-fueled rages that resulted in the physical battering of his mother. To survive, his mother fled the marriage and went to work washing and ironing clothing.
A few months after the break-up, Mauricio took to the streets of San Antonio selling pop bottles, old newspapers and cardboard. He also shined shoes near the military base.  He began to identify with other street children about his age. Soon, he joined them when they stole toys from department stores.
His shoplifting and failure to attend school landed him in a school for delinquent boys on three separate occasions.  "We didn't have good shoes and clothes I was ashamed to attend school looking like a tramp," he recalled.
At 11-years-old, Mauricio began to sniff glue, lighter fluid, car gasoline, and ingest barbiturates and alcohol.  Then he graduated to marijuana, joined the Austin Street Gang, and began injecting heroin into his veins.
Looking for a way out, he lied about his age and joined the Texas National Guard at 16. Two years later he enlisted in the U.S. Army, completed his service, and received an honorable discharge.
But a couple years after he left the service he made a horrible mistake.  He got involved in a robbery that resulted in murder.
In May 1966 he sat in a jail cell in the Bexar County Jail.  He couldn't get the words of the prosecutor out of his mind: "Your Honor, The State of Texas files notice that it will seek the death penalty (by electric chair)." He was arraigned for robbery and murder with malice aforethought.
"By the grace and mercy of God I was sentenced to life imprisonment," he said. A few days later he was on a bus headed for prison, handcuffed and impaired by heavy chains on his feet.
Prison life was harsh. Guards directed racial slurs in his direction such as "nigger, wetback, and Mexican." Physical beatings were not infrequent.
Mauricio was required to do manual agricultural labor. "Guards kicked at us and lashed out at us with bullwhips from their horses as we picked cotton, corn, beans, potatoes and other vegetables in the hot sun," he said.
He found himself on the wrong side of several disciplinary actions that resulted in solitary confinement. In these circumstances, he slept on a concrete block in a dark, windowless cell without food for extended periods.
Mauricio stated that inadequate medical care within the prison resulted in the loss of his left eye, which had to be removed completely.
Amidst these trying circumstances, he searched for the ultimate meaning of life. He changed his religion from Catholic to Buddhist and for seven years practiced meditation, the four noble truths, and the eightfold path.
Seven years later he still felt lost. With mounting cynicism and hopelessness, he came to the conclusion that religion can never change a person and secondly, that armed revolution was the only solution to the failings of the government.
"I began to identify with the Brown Power movement of the 1960's and to subscribe to militant and communist publications such as 'The Guardian' from New York and 'Peking Review' and 'China Reconstructs' directly from the People's Republic of China," he recalled.
These influences only inflamed his violent tendencies. "We began to persuade prisoners to our cause and when Christians would try to witness to me I would threaten them or beat them up. I remember beating up one Christian and banging his head against the prison cell bars until blood was flowing from his head and he was hollering for the guards to rescue him simply for speaking to me about Christ."
God's Word breaks through
Despite this personal animus toward God, during his somewhat frequent trips to solitary confinement the guards left a Bible in his cell. "I started reading the Bible to pass the time," he noted. Little did he realized that God, in His great love, was slowly planting His Word in Mauricio's heart.
Years later, in 1978, he attended a prison evangelistic meeting for the first time. "A black minister preached on Saul of Tarsus persecuting Christians and about his subsequent conversion," he recounted.
"That word went straight into my heart. After leaving the meeting I went to my prison cell, got on my knees, and said 'God, I know I am a sinner and that I have destroyed my life through sin, but if you can use my life in anyway I surrender my life to You right now.'"
Mauricio had suffered from an infection in his throat for over a year. The infection produced a sore full of hardened white pus, which had lodged itself in his throat. Only surgery could remove it, an ear, nose, and throat specialist had informed him.
"As I invited Jesus into my life all of a sudden all my breath left my body for a few moments and I felt an urge to vomit and when I did I vomited a white ball of hardened pus the size of an egg out of my mouth."
Startled, Mauricio looked in a mirror and saw an open wound in his throat.  Forty minutes later he looked in the mirror again and the wound had disappeared.
"I was completely healed by the resurrected and glorified Christ," he realized.
Mauricio was baptized in the prison, filled with the Spirit, and began to serve the Lord among the inmates.
Four years later, by God's grace, he received a reprieve. "I was paroled to Joe Fauss, Director and Founder of Calvary Commission. I was permitted to return to Leavenworth Federal Prison and the Texas Prison System as a minister of the Gospel of Jesus Christ. In 1983 I was sent by my Calvary Commission leaders to the Texas-Mexico border to pastor the Calvary Commission church there."
A few years later, the Lord led Mauricio to launch a church in Mexico City. As a result of his contact with several tribal groups under his pastoral care, he began to travel with Joe Fauss to Belize and Guatemala, Central America, to Romania, and to tribal groups in the country of India.
"I know from personal experience that God can take a murderer and turn him into a missionary. My question to you would be, 'What does God want to turn you into?'"
"If God can change me He can change anyone."
If you want to know more about a personal relationship with God, go here
Postscript: Edward Mauricio passed away April 16, 2012 from cancer. On his casket was a banner that read, "He Acabado La Carrera" — "I have finished the race"
Calvary Commission is a Christ-centered organization with special emphasis in the areas of prison ministry, discipleship, ministry training and missions work both foreign and domestic.