By Mark Ellis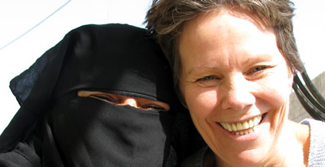 Karen Dunham came to Christ after she barely escaped a brush with organized crime figures determined to kill her. But God used that fiery ordeal to prepare her for another – ministry to Muslims in the Palestinian refugee camps of Jericho and Gaza.
After her dramatic conversion chronicled in a previous story, family members thought she lost her marbles. "My parents wanted to put me in a mental institution because they thought I went crazy," she recalls. "They didn't flip out when I worked for the devil — they never said a word."
At the invitation of Samuel Rees Howells, she made her first trip to Israel with the Bible College of Wales. She described her baptism in the Jordan River in her book, "Pushing the Pillars" (Living Bread International Church):
"As I went under the waters, I felt so thankful to the Lord for His glorious promises." When she stepped out of the river, her Jewish guide, Aaron, read from Isaiah 61: "The Spirit of the Lord GOD is upon me, because the LORD has anointed me to preach good tidings to the poor…"
"Do you know this is in the Bible twice?"Aaron asked. Then he proceeded to read the same passage quoted by Jesus in Luke 4. Even though her tour guide didn't know Jesus, Dunham felt his use of the Scripture released a blessing over her.
On her second trip to Israel in 2003, many were not traveling to the Middle East due to the U.S.-led invasion of Iraq that began in March. The streets of Jerusalem were devoid of tourists and the public mood in the Old City was against America for killing Iraqis.
Dunham and her 15-year-old son Blake gave away gospel tracts in the streets, put prayer requests in the Western Wall, and helped nuns wash dishes at the Ecce Homo Convent where they stayed.
A calling to Jericho
She met an evangelistic Catholic priest, Father George, who amazed her when he said, "Go to Jericho and feed the people and win the whole city for Jesus." The Holy Spirit gripped her soul when he said those words. Immediately she knew that she and her son must move to Jericho, "the door of the land."
At the time, there were no Americans in Jericho. "The only woman who would rent me a house was a woman in one of the refugee camps who desperately needed money," Dunham recalls.
Some of her Jewish friends expressed anger when she said she wanted to move into Jericho to feed hungry Palestinians. "Why would God tell you to feed the enemy?" they asked.
One of her new neighbors in the camp came over and said, "We never dreamed we would be living with an American in a Palestinian refugee camp."
Shortly after her arrival, an Israeli army officer called. "What are you doing in the refugee camps?"
"We are going to build a church," Dunham replied.
"What are you going to do for followers?
"God has a plan," she said.
Dunham found that if she was honest with the Israelis and the Palestinian authorities, they let supplies come in on behalf of her fledgling ministry.
She distributed Arabic Bibles to the Palestinians because "the Bible has the answer for everyone. Without reading the Bible, it is like having a blindfold over your eyes."
Dunham also began teaching English to the refugee children after school. "We did not have a fence at our home, and at times we would have 30 to 40 people in our yard and inside our house.
When she wasn't looking, the Palestinians stole anything they could get their hands on. "The one thing that kept my love and compassion for the people was that they were pitiful and very needy. The Lord said to me, 'No matter what they do to you, keep loving them.'"
After an outreach where she distributed 300 bags of food and gospel tracts, the local mosque began to preach against her. "They shouted over loud speakers that I needed to be executed along with my son because I was trying to steal the souls of the people."
But the more the mosque preached against her, the more people showed up at her door. "All over the city of Jericho they now knew where to come to get aid and learn about Jesus."
Blowing the shofar led to an attack
One morning Dunham decided she would blow the shofar from the roof of her house. "I blew it in directions to the north, south, east, and west. The sound carried throughout the refugee camp."
Some misinterpreted this act and concluded she must be a converted Jew because she blew a shofar. Two days later a crowd surrounded her house with buckets of rocks and began to pelt the walls, doors, and windows. She and her volunteers, locked inside, survived the attack.
In the summer of 2004 Dunham's son, then 16, left the camp. "I can't take it anymore," he told his mother. "There are refugees in our house every day. They don't bathe and they steal from us. I love the people, but I don't feel I am supposed to live with them." Dunham felt she had to release Blake to the Lord, and he went to London to live with a friend.
Dunham visited Palestinian homes where the cupboards were usually empty and the people hungry. She also saw great medical needs. "Every family seemed to have someone that needed some kind of surgery." But she established a policy against providing conventional medical aid. "We knew that Jesus Christ would heal the people. We felt this would be a great testimony in these people's lives."
What was the result? "Deaf ears opened, the mute spoke, and the lame walked," she says.
A church is born
Dunham started a church meeting in her home one day a week, which came to be known as Living Bread International Church. "We would have this meeting and talk about Jesus and then give them bags of rice," she recalls. "We would pray for the sick and comfort those in mourning. God did the miracles!"
One man in her meeting told Dunham he could hear for the first time in years. He left excitedly to find out if he could hear as well in his own house.
After Dunham gave the Bible to another Muslim convert named Abraham, he read it in five days. "I just couldn't stop," he told her. "As I read it, I felt my blood rushing and the hairs standing up on my arm. I'm going to read it again," he told her.
"That's a great idea," she replied.
Multiple attacks
As the church grew, the death threats multiplied. One night, some enemies of the gospel placed a stack of tires against her door and around the front of her house, then lit the tires on fire. "We called the police, but no one would come. We then realized our water had been cut off."
She retreated to the roof and mercifully the fire went out by itself. She survived her second attack.
A Palestinian man named Samir volunteered to wash the blackened walls with bleach and repaint. "He wanted to work day and night to help us. Later, Samir asked if he could go home for a couple hours."
When Samir returned, he said, "I went home and told my whole family about Jesus. They all have Jesus in their hearts now."
Dunham and another volunteer named Thomas began to cry. "If this is what it takes for them to receive Jesus in their hearts, then send the fires God."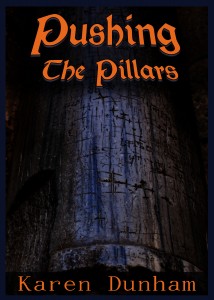 Thomas got his wish answered shortly after this, when an attacker threw a Molotov cocktail through his bedroom window. His mattress caught on fire, but he escaped unharmed.
Dunham moved her volunteers to the third floor of her house, since the second floor windows suddenly became magnets for Molotov cocktail attacks. She purchased a rope she called her "Rahab rope," and tied it to the roof. "We felt if the fires got too hot, we could go down the rope to safety."
"I really lost count of the number of mattresses that were burned with Molotov cocktails," Dunham notes. "Cleaning the soot off the walls and repainting the house were part of our regular duties."
"With every fire and persecution, we would bless the Lord for being found worthy to suffer for the Gospel," she adds.
The church outgrew Dunham's house, so her team set up 100 plastic chairs outside for services. Unbelieving neighbors threw stones at women and children walking down the road to church. "Mothers hid their babies in their shirts as they tried to make it down the streets."
The big fire
One night, assailants lit the plastic chairs on fire that were stacked next to her house. The fire was so intense it blew out every window and melted her refrigerator and air conditioning unit. Thankfully, Dunham and her volunteers were able to escape the flames, but her house was a burned-out, blackened shell.
After this incident, no one would rent a house to her. "You have a fire problem," they told her. Dunham lived in the blackened remains for weeks.
When she finally found another rental, she sensed the Lord tell her there would be no more fires. She also felt God direct her to rent a public wedding hall to hold church services. "I thought, 'Lord, we've had death threats and fires and now you want me to rent a public wedding hall to have a Christian church service?' I knew it could not be Satan because he would never tell us to do something so courageous."
She rented the wedding hall and the Lord filled it with Muslim converts from the Palestinian refugee camp. "It was such a bold thing to do. The entire city must have been in shock at our boldness, and so were we. We had at least 100 Muslims attending faithfully."
Raised from the dead
The wife of one Islamic extremist was attending the church without her husband's knowledge. At the end of her pregnancy, she learned there was a serious, life-threatening complication.
When Dunham went to visit the woman and her husband, he gave this astounding report: "They did a C-section on her. The cut was a foot long and she lost so much blood she died on the table. As she lay there dead, she saw Jesus standing next to her praying for her life. As Jesus was praying for her, she felt her life come back to her body."
"She looked at her baby boy and she knew he was dead," he continued. "She watched Jesus walk over to the boy. He put his hand on the boy and the boy came back to life."
"I was so amazed at the testimony coming from her militant husband," Dunham notes. "The husband insisted on naming the boy Jesus."
Ministry of reconciliation
Dunham's ministry has won favor with the Israeli and Palestinian authorities because violent incidents in the camp have lessened due to the influence of her church. She currently works in Jericho and Gaza, maintains an office in Jerusalem, and has been invited to work in 27 more refugee camps – but she lacks the volunteers to do it.
"We've been asked to work in Nablus and there's a lot of terrorist activity there," she notes. "We don't have enough manpower; you have to be ready to lay your life down."
"We can beat terrorism with Christian principles by converting Muslim terrorists to Christianity," Dunham insists. She loves the fact that when radical Muslims come to Christ, they are also radical Christians – ready to die for Jesus.
Her approach also caught the attention of the U.S.military. Recently, Dunham was invited to speak at the Naval Postgraduate School in Monterrey,California. "I did a PowerPoint on how to fight terrorism because we're having success and they know it."
"Listen, you lose because you won't talk about God," she told the officers. "Until you're willing to discuss a bigger God you've lost the battle."
As a result of her talk, Dunham's organization secured a grant to assist with conflict resolution in the Palestinian territories. "I go into an Islamic Jihad family and I tell them your kids don't have to become suicide bombers."
"It's a lonely call, but the glory of God is all over it."
Karen Dunham and her son Blake founded Living Bread International Church and produce the Door of Hope TV program. She has offices in Jerusalem, Jericho, Gaza, and the U.S.