Santiago destroyed…food supplies running low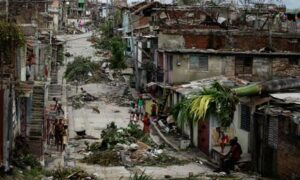 By Jonathan Deatherage, Camino Global
While many look to the damage caused by Hurricane Sandy in North America on Monday night, there are still thousands left struggling to survive in Cuba, where the storm ravaged parts of the country last Thursday, October 25. Roofs caved in, houses were demolished, agriculture has been significantly damaged, and the food and water supplies are running low.
A recent report from one of our contacts relates the devastation first-hand:
My son, a young man from our church, and I were there when the eye of Hurricane Sandy hit Cuba from 12:00 a.m. – 4:30 a.m. The death toll and the devastation is great. The city of Santiago was completely destroyed. It was as if a hurricane, a tornado, and an earthquake took place, all three at the same time. Many pastors' houses are on the ground.
What's worse is that the "bodegas" (where the government keeps food supplies) are destroyed and people have no food! In some bodegas the food (rice, beans, sugar, eggs, flour, etc.) got wet and went bad.
There is no electricity and whatever food supplies people had in their refrigerators has gone bad. Stores stay open for as long as you can imagine, with long lines gathered. As of Saturday there was no water or food relief.
Our brothers and sisters will need not just our prayers in the days ahead but also our financial support.
We invite you to join us in supplying aid to our brothers and sisters in Cuba as they try to survive this difficult time.