by Erich Bridges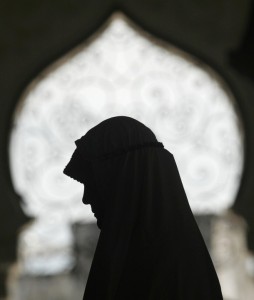 The Christian relief team heard about the needy Syrian widow living outside a Lebanese Muslim village near the Syrian border. So they took food to her.
Apparently, Jesus had been there first.
A refugee from the civil war in Syria, the Muslim widow, along with her three children, had sought shelter in Lebanon — like more than 100,000 other Syrians. She was observing a traditional 40-day period of solitude to mourn her dead husband, so she had received nothing from the local Islamic aid society.
When the Christians knocked at her door, the widow appeared fully covered in black, including an opaque veil over her face. She explained her period of self-isolation. They offered to leave the food outside, but she unexpectedly invited them in. They sat with her and her children on the floor of the temporary dwelling.
"Who are you?" she asked anxiously.
"You don't know us, but we have great love in our hearts toward you," the team leader answered, explaining their reasons for helping Syrian refugees. "That love comes from God, who has worked in our lives."
To their amazement, she responded by removing her veil –— unheard of in her conservative Muslim culture. Then the words came flooding out.
"I want to tell you what happened to me yesterday," she said, her voice trembling with emotion. "As I was sleeping during the night, someone knocked on my door. I was so scared, but I opened the window to see who it was. No one was there. After a while, I heard the same knocking. My heart was beating so fast, so I went and sat beside the door, and I fell asleep there.
"As I was sleeping, someone put His hand on my shoulder. He said, 'You don't know Me. You have passed through a great pain. I experienced a great pain, also. But I will not leave you alone. Tomorrow I will send you someone who will tell you about Me. Listen to him.'"
When she finished the story, she began to weep. She turned to the team leader and said, "Tell me about this person that I saw in my dream."
Through his own tears, the leader told her about Jesus Christ, the Messiah, the friend of widows, orphans and outcasts. "This Book that I'm going to give you will explain to you about God's love," he promised, giving her a Bible along with additional aid to help her and her children survive the mourning period.
The widow later returned to Syria. No one knows for sure what has become of her. But God knows.
'Dead or alive?'
Sami*, the Lebanese Christian pastor who told the widow about Jesus, has had similar experiences with other Muslims. He and several Christian partners have been reaching out to Muslim villages in Lebanon with the simple Gospel message. They expanded their outreach to Syrian Muslims when refugees started streaming across the border last year.
"When we started to serve among those villages and communities, I had a doubt in my heart," Sami admits. "Will it work? Are we going to experience what we hear from different parts of the Middle East and the world about Muslims coming to know Jesus as Savior and Lord? It was a challenge, a discovery process for me personally and for many with us in the ministry. But as we have shared the Gospel faithfully, the Lord is showing us signs of people who are opening up, asking questions and opening the door for us to reach a wider community.
"We started a couple of house groups in different areas with Lebanese and Syrian Muslims, and we are discipling those people. Some of them have come to know Christ. Others are discovering who Jesus is. They are showing signs of changing in their lives."
A Muslim community leader the Christians befriended last year helped them gain entrance to the homes of many Muslims — Lebanese and Syrian. During those visits, he heard the Gospel message of God's offer of salvation through Jesus Christ perhaps 100 times.
At the beginning of one such visit, the Muslim leader walked up to a refugee family, pointed at them and said, "Are you dead or alive?"
The family was taken aback; so were the Christians. He repeated his question: "Are you dead or alive?" Then he pointed at the Christians and declared, "These people have a Book, and it's going to tell you how to find life. You need to read it!"
"This is a Muslim guy who probably has never read the New Testament himself," marvels Christian worker David James*, who participated in the visit. "But he's opening doors for us now because he saw something different in us as he heard the things that we were sharing."
In another village, the relief team made a repeat visit to the home of an influential Syrian Muslim. He knows many other needy families, so they brought a large supply of food for distribution.
"We don't need your boxes of food," the Syrian leader said. "What we need is somebody to come and teach us how to walk in the way of Jesus and how we can forgive one another. We don't know how to live with each other." The Christians were happy to oblige.
'I want to follow Jesus'
Perhaps the boldest new evangelist in Lebanon, however, is an older Syrian woman whose home has become a center for teaching truth.
Sami met Noora* at the end of a long, exhausting day of aid deliveries to refugees. He was ready to go home, but his guide insisted on one more stop to a particularly needy group of families. Reluctantly, he agreed. They distributed food portions and New Testaments along with a simple Gospel presentation.
Noora, one of the Syrian Muslim women in the home, started asking questions about baptism. As it turned out, she already was reading the New Testament. She had plenty of other questions about Jesus: How do you address Him? How does He differ from the other prophets?
"We read Matthew, the first chapters, about Jesus' incarnation and that He is Immanuel," Sami recounts. "Immanuel means 'God with us.'"
"I don't understand," Noora replied.
Sami explained the concept of a king visiting his people disguised in plain clothing and humility, yet remaining in every aspect a king. He told her about Jesus' sinless life compared to the other prophets, all of whom had failed God in various ways, despite their greatness.
"Who do you want to follow — Jesus or the prophets?" Simi asked.
"I want to follow Jesus," Noora answered.
During another visit Noora suddenly declared, "The message that you shared with me changed my life. I'm a new person." The changes in her life proved her words.
"Once we visited her and she was reading the Old Testament," Sami recalls. "After another week, she was in the New Testament. She told us, 'This is my third time of reading the whole Bible.' After that we continued visiting her, encouraging her and discipling her. She said, 'Everything you tell me, I go and I share it with others. I tell the traditional Christians that worshipping saints is not good; you have to worship God. I'm sharing with the Syrians [Muslims] about how God changed my life.'"
Recently Noora returned to Syria for a visit with family, despite the dangers. When Sami called her to make sure she was OK, she reported: "I have a group of women gathered in my house from Muslim and Christian backgrounds and I'm teaching them.
"It's hard," Noora acknowledged, "but God is helping me." — Baptist Press
*Names changed. Erich Bridges is a global correspondent for the International Mission Board.