By International Christian Concern
Reports of Iranian authorities arresting Christians for their faith are pouring in, indicating that the Islamic nation is running a massive campaign targeting house churches.
Officials from Iran's Cyber Police force raided the home of a Christian convert, Alireza Ebrahimi, in the northern city of Gorgan, Mohabat News reported on Nov. 16. The officials had an arrest warrant for Ebrahimi, who was apparently not at home at the time and it remains unclear if he was being held in prison. The Christian man is a blogger who uses social media for evangelism.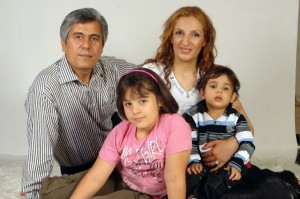 On Nov. 15, Christian Solidarity Worldwide (CSW) said that the health of a 41-year-old pastor, who was arrested last year, was in critical condition and "there is a very real chance he will die." Pastor Behnam Irani, who is currently serving a six-year sentence, was a leader of the Church of Iran in the city of Karaj in Alborz Province, He had reportedly been beaten in prison and was being denied hospitalization despite having a bleeding ulcer. He was arrested allegedly for acting against the interests of national security, while the real reason was evangelism.
On Oct. 12, seven Christians from the Church of Iran were detained during a raid by security personnel in the southwestern city of Shiraz, Mohabat reported. The seven were identified as Mohammad Roghangir, Suroush Saraie, Roxana Forughi, Eskandar Rezaie, Bijan Haghighi, Mehdi Ameruni, and Shahin Lahooti, who were taken to the notorious Plaque 100 detention center.
On Oct. 18, authorities arrested two more believers from the same church, identified as Afsar Bahmani and Massoud Rezaie.
However, Ameruni was freed last week on a bail bond of about $25,000 in local currency. Haghighi and Furughi were also released on bail on Oct. 25 and Nov. 1 respectively.
On Oct. 15, three of the five Christian converts who were arrested in February from Shiraz appeared before the Islamic Revolutionary Court in the city to respond to charges against them, which included burning of the Qur'an and having links with enemies of Islam abroad. The five were identified as Vahid Hakani, Mojtaba Hossein, Korush Partoey and Homayoun Shokohi and his wife Fariba Nazemian.
Shokohi and his wife were initially not brought to the court, and the hands and feet of the other three were tied with chains. The judge later asked authorities to bring the Christian couple after he saw their son, who had come to the court to see his parents, having an epileptic seizure near the courtroom. The judge released Nazemian on bail.
The official trial of four other Christian converts from the Assembly of God Church, who were arrested in December 2011, was also held on Oct. 15 at Branch 2 of the Revolutionary Court in Ahwaz, the capital of Khuzestan Province, Mohabat reported. The four were identified as Pastor Farhad Sabokrouh and his wife Shahnaz Jeizan, and church ministers Naser Zamen Dezfuli and Davoud Alijani.
The charges against the four include "converting to Christianity, inviting Muslims to convert, as well as propagating against the Islamic regime through promoting Evangelical Christianity." They were each given a suspended sentence of one year's imprisonment and the confiscation of all their Christian materials.
In late September, intelligence officials arrested as many as 30 Christians in Shiraz, and sent them to the Plaque 100 detention center, according to the Farsi Christian News Network. Adyan News, partly owned by the state, also reported on the arrests, saying the Christians were part of "the Zionist enemy propaganda crusade in the Holy Islamic Republic of Iran."
The arrest are prompting leaders from various parts of the world to call on Iran to abstain from persecuting Christians.
On Oct. 29, U.K.'s All-Party Parliamentary Group (APPG) launched a report detailing evidence of the persecution on Iranian Christians by their own government, and calling on the British government to apply pressure on Iran to uphold the fundamental right of religious freedom for all Iranian people.
Reuters recently quoted Ahmed Shaheed, U.N. special rapporteur on human rights in Iran, as saying that he estimated that "over 300 Christians have been arbitrarily arrested and detained throughout the country since June 2010."
"Scores of other Christians appear to remain in detention for freely practicing their religion," Shaheed said. "Churches continue to report undue pressure to report membership, in what appears to be an effort to pressure and sometimes even detain converts."
Christian persecution in Iran increased since June 2009, when the results of the presidential elections were disputed. Many believed President Mahmoud Ahmadinejad Authorities rigged the elections. To deal with growing opposition to his rule, Ahmadinejad began to restrict civil liberties – including religious freedom – and attack protesters.
The Iranian president claims that the West is fueling resistance to his regime. Arrests of Christians are also part of his efforts to tighten noose around people's freedoms in the face of domestic insecurity and international pressure over the nation's secret nuclear enrichment program.
ICC is a Washington, D.C.-based human rights organization that exists to help persecuted Christians worldwide. ICC provides Awareness, Advocacy, and Assistance to the worldwide persecuted Church. For additional information contact ICC at 800-422-5441