By Mark Ellis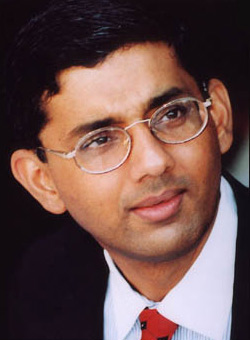 Dinesh D'Souza, the high-profile Christian apologist, maker of the "Obama: 2016" film, and The King's College president, is being questioned by board members at the college about an improper relationship with another woman, according to World Magazine.
The story by Warren Cole Smith will appear in the November 3rd issue of World Magazine.
On September 28th, D'Souza was the keynote speaker at a Christian conference in Spartanburg, S.C. about defending the faith, which also included noted speakers Josh McDowell and Eric Metaxas.
Although D'Souza has been married for 20 years to his wife, Dixie, at the conference he was in the company of a young woman, Denise Odie Joseph II, and introduced her to at least three people as his fiancée, according to World.
Finally, near 11 p.m., event organizer Tony Beam escorted D'Souza and the young woman to a hotel nearby. Beam reported they checked in together and apparently shared a room for the night. The next morning, around 6 a.m., Beam arrived at the hotel and called D'Souza's room. "We'll be down in 10 minutes," D'Souza told Beam. D'Souza and the young woman came down together, and Beam took them to the airport, according to World.
The following day, another conference organizer, Alex McFarland, confronted D'Souza in a telephone conversation. D'Souza admitted he shared a room with his fiancée but said "nothing happened," according to World.
D'Souza confirmed to World Magazine that he was engaged to Joseph, but did not explain how he could be engaged to one woman while still married to another. When asked when he had filed for divorce from his wife, D'Souza said, "Recently."
According to San Diego County (Calif.) Superior Court records, D'Souza filed for divorce on Oct. 4, the same day he was contacted by World Magazine about the relationship.
D'Souza also told World Magazine his marriage was "over," said he "is sure Denise is the one for me," and said he had "done nothing wrong."
The film "Obama: 2016," has grossed more than $30 million. D'Souza also receives speaking fees up to $10,000 from Christian groups, which places him at the highest level of Christian speakers. In 2010 he became president of The King's College, New York City, which is supported by Campus Crusade for Christ.
D'Souza told World Magazine that The King College's board chairman has known about his marital problems for at least two years. A spokesperson for the board expressed hope for the restoration of his marriage.  The spokesperson also said The King's College Board met by conference call to begin "looking into the situation" and that D'Souza participated in the call, DeMoss said.
Following that meeting, D'Souza wrote in a text message Oct. 15th to Warren Cole Smith at World Magazine: "I have decided to suspend the engagement."
The King's board plans further discussion at a regularly scheduled meeting on Oct. 17 and 18, according to World.