Famed Christian writer C.S. Lewis has often been regarded as either uninterested in the modern evolution debate or generally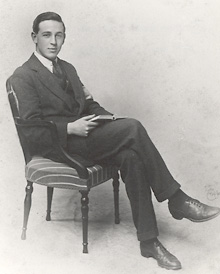 supportive of evolutionary theory. But newly discovered notes written by Lewis challenge those views, revealing Lewis's intense interest in the topic of evolution as well as his early skepticism of Darwin.
The unpublished material is described and quoted from for the first time in the new book The Magician's Twin: C.S. Lewis on Science, Scientism, and Society, out this month at Amazon.com and other booksellers.  More information, including the download of a free chapter on "C.S. Lewis and Intelligent Design," is available atwww.magicianstwin.com.
"C.S. Lewis's personal library contained more than three dozen books and pamphlets on scientific topics, many of them focused on evolution," said Dr. John West, editor ofThe Magician's Twin. "Several of the books on evolution contained annotations and underlining by Lewis, including Lewis's personal copy of Charles Darwin'sAutobiography."
"One of Lewis's most heavily annotated books was a nearly 400-page book critiquing the creative power of Darwinian natural selection that Lewis first read as a 19-year-old soldier during World War I," explained West. "Lewis wrote careful notes on most pages of that book, and he later stated that the book's 'critique of orthodox Darwinism is not easy to answer.' Just a few years later, Lewis wrote a letter to his father saying that the evolutionary ideas of Charles Darwin and Herbert Spencer were built 'on a foundation of sand.' Lewis was still an atheist when he expressed these early doubts about Darwin."
Near the end of his life, meanwhile, Lewis marked up with critical comments his copy ofThe Phenomenon of Man by prominent theistic evolutionist Teilhard de Chardin.
The Magician's Twin explores C.S. Lewis's far-ranging views on science and society, not just evolution, and it features chapters by a number of leading scholars, includingMichael Aeschliman, author of C.S. Lewis and the Restitution of Man; Victor Reppert, author of C.S. Lewis's Dangerous Idea; Pulitzer Prize-winning historian Edward Larson; and New York Times-bestselling author Jay Richards. The editor of the book, John West, previously co-edited the award-winning C.S. Lewis Readers' Encyclopedia and directs the C.S. Lewis Fellows Program on Science and Society at Discovery Institute. — Discovery Institute