By Mark Ellis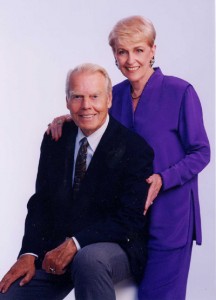 Ray Ortlund, a beloved pastor, author, and radio broadcaster — who touched the lives of many through small-group discipleship – bravely endured the complications of pulmonary fibrosis, an insidious lung disease that also claimed the life of Campus Crusade Founder Bill Bright.
Ray and wife Anne founded Renewal Ministries after he led two of the most prominent churches in Southern California.  Together they authored more than 25 books and traveled extensively throughout the world speaking on behalf of renewal and revival among God's people.  For 19 years, Ray was the speaker for the "Haven of Rest" radio broadcast.
Ray went to be with Jesus on July 22, 2007. Five years after his home-going, his wife and daughter recount the untold story of the months and final days of his glorious life.
In the progression of pulmonary fibrosis, normal lung tissue is replaced by scar tissue, which causes the sufferer to slowly suffocate to death. "When these growths cover your lungs, the air is all around you but you can't take it in," notes Anne Ortlund. "It's like drowning, a very hard way to go."
Ray fought his disease at the same time Bill Bright suffered with the malady. 'They talked about it over the phone," Anne recalls. Bill encouraged Ray to seek the same therapy he was receiving in Florida, however, their disease had advanced far beyond what the therapy could offer. In the often difficult days before their passing, the two families shared encouragement and prayer.
In the last six months of his life, Ray periodically had 10 – 15 minute emergencies when he fought desperately to get air. "When those periods were over, more than once he said, 'This is God's gift to me.'"
In January 2007, Ray was invited to preach his final sermon at a church on the verge of a split. "The pastor had gone into heresy and he invited people to follow him after he was kicked out," Anne recalls.
Ray, concerned about his breathing and physical stamina told Anne, "Pray I won't cough when I'm preaching."
In the service, Ray climbed the stairs as soon as his introduction began, so he could regain his breath before he began to speak.
"It was a powerful sermon about love in the body," Anne recalls. "The Lord was so kind. He never coughed once and nobody left the church."
"The Holy Spirit used that sermon to convict then that they needed to stay together."
A month later, Ray suffered a stroke and a heart attack almost simultaneously. Because Anne was ill, daughters Sherry Harrah and Margie McClure had to make the decision to put a breathing tube down Ray's throat.
"Due to the stroke, he couldn't write. He couldn't speak because of the tube," Sherry recalls. "It was a very hard family time." Ray — one of the great communicators of all time — was reduced  to conversing with a nod.
After nine days the breathing apparatus was removed. His vocal chords were damaged and he could only speak with great labor for about two months. One night, he woke up and told Anne; "Glory to God!" By God's grace, his vocal chords healed and he was able to speak well until the day he went home with Christ.
One week before his passing, Ray and Anne had dinner with Sherry and her husband Walt. While Anne and Sherry were in the kitchen, Ray voiced an inner concern to Walt. "I'm dying," he told Walt. "Mom doesn't get it and she doesn't want to get it. I need your help to make her believe that."
"We had a heavy conversation at dinner about his death – he brought it up," Sherry recalls. It was clear that Anne was struggling with the concept of life without her husband and best friend of more than sixty years.
After Anne voiced her concerns, Ray offered his calm assurance. "Anne," Ray said wisely, "God will provide for you without me. This is a new reality."
A few days later, Anne woke up abruptly to find Ray sitting on the edge of the bed, fighting for breath. "He was in such agony," she recalls. She immediately called 911. A normal oxygen count in the blood is 100. When paramedics arrived, Ray's count was 37.
He arrived at Hoag Hospital in Newport Beach, California on Thursday, and for the next two days, family members began to gather. "They didn't know this was actually the end because he had been in and out of the hospital so many times," Anne notes.
"I was alone with him and Ray started singing, 'Shall we gather at the River.' We sang it together – it was a precious moment."
"Shall we gather at the river,
where bright angel feet have trod,
with its crystal tide forever
flowing by the throne of God?
"Yes, we'll gather at the river,
the beautiful, the beautiful river;
gather with the saints at the river
that flows by the throne of God."
When Anne left the room, Ray shared some inner fears with his nurse, Patrick.
He conveyed that he had another friend, besides Bill Bright, who had pulmonary fibrosis and that his death was agonizingly painful. He told Patrick that he did not want to go that way. "I want my family to be around me and I want to be in my right mind."
Ray made it clear he wanted no drastic measures to prolong his life. He emphatically refused the insertion of another breathing tube.
"With the Lord being my helper, I promise I'll keep you comfortable," Patrick said.
In the early hours of Sunday morning, the Lord impressed on Ray's heart that it was time. He awakened abruptly at 4:00 a.m. and called for Patrick. "I'm going," he said with certainty. "Phone my Anne and tell her to come and tell the children to come."
"There were eight of us around the bed and we had three hours of the most precious time," Anne says. Ray sat up and Patrick removed the oxygen mask from his face so he could talk.
"We would give verses of Scripture and we sang hymns," Anne says. "We remembered things that happened in the family and would thank each other."
Ray stayed true to his calling to the very end. "Ray was leading it all like a pastor leading a service," Anne recalls. "He was really in charge."
"We sang everything we knew – 'Great is Thy Faithfulness' and even 'Jesus Loves me.'"
"Like Jacob, Ray went around the room from one person to the next and gave an admonition and a benediction." With tears flowing freely, each member of the family kissed him or held his hand.
He came to Anne last, who sat next to him. He looked at her as she held his hand, "Obey your children," he said.
In the final moments of Ray's life on earth, the family recited in unison the Aaronic benediction, found in the Book of Numbers, chapter six:
"The Lord bless you and keep you;
The Lord make His face shine upon you,
And be gracious to you;
The Lord lift up His countenance upon you,
And give you peace."
Then Ray said by himself, "Amen and amen."
At that moment, he looked up and raised his hand, as if greeting the Lord. His head fell gently forward on his chest and he slept, not to wake again on this earth.
"When he said 'Amen' his head dropped forward and he was with the Lord," Anne says. "His death was as glorious as his life."
"It felt like such a gift from the Lord and a gift from daddy to bless us in the way he did," Sherry says. "He died as he lived his life. He was always thinking of the Lord and of others and trying to connect the two."
"He was being who he always was, loving the Lord and loving on us."
To watch an interview with Ray and Anne Ortlund with journalist Mark Ellis, click here: https://www.youtube.com/watch?v=dTQOM-xIscE