By Dan Wooding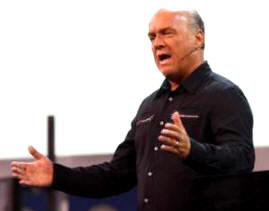 Southern California evangelist and pastor, Greg Laurie, hit a dazzling series of "home runs" for Jesus Christ at Dodger Stadium in Los Angeles Sept. 8- 9, with some 7,389 people making decisions for Christ inside the iconic baseball stadium, and 1,453 via a live webcast of his Harvest L.A. crusade.
Harvest Crusades with Greg Laurie capped off the most significant year in its twenty-three year history when it concluded its final Harvest outreach of the season in Los Angeles.
In addition to drawing 61,000 people to Dodger Stadium, the Harvest Crusades also recently drew more than 350,000 participants to its annual outreach at Angel Stadium of Anaheim, both in-person and via live satellite and internet broadcasts carried to 2,400 locations across the U.S.
It is estimated that more than 450,000 people participated in Harvest Crusade events in 2012, making it one of the largest evangelistic outreaches in U.S. history.
In addition to those watching the 2012 Los Angeles Harvest inside Dodger Stadium, another 37,530 people from 50 states and 115 countries tuned in to a live crusade webcast to listen to Greg Laurie speak about the hope we can all find in God. Laurie's message was particularly relevant in a city that holds significant creative influence over the rest of the world.
Echoing the lyrics of a song performed by the Newsboys, "My God's not dead," Laurie shared his personal story with the audience gathered at Dodger Stadium. "One day I asked myself, 'What if God is not dead?' said Laurie. "I never before considered that I could have a relationship with God. I was not the 'Christian' type, but I asked God to forgive me of my sins and it was like a great weight fell from my shoulders."
Laurie continued, "If you're a prodigal, hang a U-turn and turn back to God. Deep down inside, we all want to belong-to love and to be loved. I have good news for you. You have a Father in Heaven who loves you. You may have walked away from God, but God has not walked away from you."
Throughout the weekend thousands flooded onto the field at Dodger Stadium to give their lives to Christ, while nearly 1,500 responded via a live webcast of the Los Angeles Harvest.
In addition to the message presented by Laurie, the 2012 Los Angeles Harvest featured music from top Christian artists Steven Curtis Chapman, Jeremy Camp, Newsboys, David Crowder, Phil Wickham, Lacrae, and the Katinas. Special guest Nick Vujicic, the founder of Life Without Limbs, joined Laurie on Sunday afternoon to discuss both suffering and the source of his joy and zeal for life.
Apart from those participating in the 2012 Los Angeles Harvest at Dodger Stadium in person and via the webcast, the outreach was also made available to 19,000 prisoners in the Los Angeles County Jail system, the largest system in the U.S. Both nights of the 2012 Los Angeles Harvest were broadcast live on the internet and are archived and available for viewing at www.harvest.org.
Greg Laurie, who founded the evangelistic Harvest Crusade events in 1990, also serves as senior pastor of one of the largest churches in the U.S., Harvest Christian Fellowship, which has campuses in Riverside and Irvine, Calif. During the past 23 years, the Harvest Crusades have drawn some 4.7 million people to events in the U.S., Canada, Australia, and New Zealand. Laurie also serves on the board of directors for the Billy Graham Evangelistic Association.