By Mark Ellis —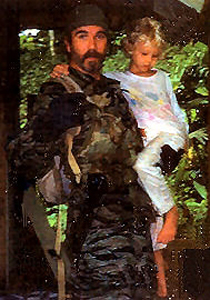 His Lebanese grandfather dates their family to the days of Noah. His Green Beret father influenced his pathway to the Marines and then to the CIA's Special Operations Group, America's most secretive paramilitary operators. Now God is using his training in clandestine activities for another purpose – recovering missing and exploited children.
"My mission is rescuing children who are abducted," says Bazzel Baz, the founder of the Association for the Recovery of Children (ARC). His team members include former CIA and National Security Agency personnel, and others from the Secret Service and military Special Forces. "This nation spent a certain amount to make us the best in the business, to go places and do things nobody else can do."
"I can go places where the FBI won't go, because their hands are tied by politics."
Under his mother and grandmother's influence, Baz became a Christian as a young person. "Mom shared the Word of God every night and prayed with us," he recalls. "She lived out her faith."
After high school, he attended The Citadel, a military college in South Carolina, where he got involved with the Navigators and Fellowship of Christian Athletes. "The Citadel forced me to depend on God with everything I had and I grew closer," he says.
In his years with the Marines and CIA, he had several narrow escapes from death. "On multiple occasions I should have been dead," he notes. Due to last-minute changes, he missed a plane or jeep that subsequently fell into harm's way. "I saw the hand of God and that He had a purpose for me," Baz concluded.
His inspiration to launch ARC came after a special ops mission to Mogadishu, Somalia in 1991. He and his operatives drove past a French Foreign Legion camp and noticed two girls hiding under some debris nearby. The light-skinned children wore blue jeans and tee shirts. Baz was certain they were in a very vulnerable position as the country descended into civil war.
"I wrestled with it all night long," he says. What are they doing out there? he wondered.
The next day he approached one of the members of his team. "We have to go back and get those girls," he declared.
His teammate nodded in agreement. "But we can't bring them back to the safe house," his fellow team member protested.
Baz went up to the roof to pray. "God, what do you want me to do with these kids?" he asked. He paced back and forth, wondering how to proceed.
A few hours later God answered his prayer in a surprising way. One of his men came in and said, "You won't believe it, but there's a lady from the U.S. here in Mogadishu and she's opening an orphanage for her church."
The next day they picked the girls up and took them to the orphanage. "I found out they were the children of an American engineer who abandoned them as the civil war started," Baz reports. Ultimately, Baz was able to reunite them with their mother with the help of the American aide worker ministering at the orphanage.
When Baz returned to the U.S., God led him to establish ARC, a non-profit organization dedicated to the recovery of missing and exploited children, foreign and domestic. God impressed on his heart that it wouldn't be a business. "It's a mission," he says. As a result, Baz and his team don't charge parents for their services.
"At that time there were 400,000 kids missing in the U.S.," he notes. "They were being trafficked, in prostitution, runaways, custody issues, and some were in cults."
"There is an evil force that wants to kill kids," he believes.
Baz notes that there are many organizations raising awareness about human trafficking, but very few actually go into the field and physically recover children. "A child doesn't come home with you unless you put boots on the ground," he says.
Despite his team's abilities, he maintains a firm reliance on God during his operations. "I pray with the parents of abducted children. When I leave, I say, 'Watch now, you're going to see the hand of God.'"
"We're good at what we do," he continues. "As good as we are, it's always by the strength and miracles of God. When we rescue a kid, usually we've expended all our resources as mighty men, then we have to drop down on our knees and ask God to do it for us."
"In each case He makes the miracle happen."
In 2003, Baz and his team were deep in the jungle of Costa Rica, searching for Lilly Snyder, a young girl kidnapped by her non-custodial father after he was released from prison. It was a revenge kidnapping directed against his ex-wife. Government authorities searched for the girls for three years without success — then ARC got involved.
Various leads guided Baz and his team to a shack at the end of a narrow dirt road in the jungle. They found an American couple with two children living in the shack, but they denied any knowledge of Lilly Snyder's whereabouts.
Disappointed, Baz and his team drove away from the shack backwards, down the long, narrow dirt road. "I got to the gate and my car got stuck in a little hole," Baz recalls. "It got stuck long enough for me to see somebody riding a bike down the road."
"I'm glad I caught you," the American said – the same man they just interviewed. "God told me I need to tell you…I know where she is."
The man drew a map to a small house buried in the jungle. Baz and his men raided the home, subdued Lilly's father and his half-brother, and tied them up.
"Your mother loves you and sent us here to get you," Baz told Lilly after their dramatic entrance.
"I knew you would find me," she replied.
ARC has had 56 successful rescues since 1991 – a 100% success rate. "God has done great miracles," Baz says.
If you want to hear more of this interview with Bazzel Baz, listen to episode 3 of our Best of God Reports Podcast hosted by journalist Mark Ellis: https://podcasts.apple.com/us/podcast/best-of-god-reports-interviews/id1560279290?i=1000518298300