By Bill Bray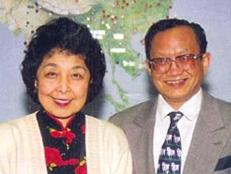 According to Dr. Bob Finley, one of the most significant leaders in the history of Christianity in China has gone to be with the Lord whom he loved and served. Dr. Sun Yi-yin, known in America as "Freddie Sun," succumbed to cancer on Wednesday evening at the age of 76.
During a 20 year period from 1992-2012, Dr. Sun was used by the Holy Spirit to organize and help with the operation of 154 Bible institutes and missionary training centers inside China, some in every province including Tibet.
More than 60,000 graduates of these schools, serving as native missionaries, have won more souls to Christ and planted more churches in China than did all the foreign missionaries combined who served in China between 1807 and 1949.
Freddie Sun said his preparation for missionary service began during a ten year trial by fire which he suffered in Communist prisons during the "cultural revolution." He had been a university professor before his arrest, and his captors were determined to crush his spirit during those ten years of forced labor. But Freddie never lost his faith. Rather, those ten terrible years served to increase his devotion to Christ and prepare him for the years of service that lay ahead.
God further blessed him by giving him a devoted wife, Dorothy Chang, who had been confined for 20 years at forced labor in Communist prisons. Dorothy has served as Freddie's co-worker in starting and providing support for Bible institutes in every province of China. Together they traveled more than 25,000 miles inside China every year from 1992 until 2012. They were able to help organize and assist with the operation of the Bible institutes and missionary training centers due to millions of dollars in financial support being provided by Christian Aid Mission. Those schools prepared and sent out native missionaries to win millions of Chinese to Christ and plant tens of thousands of house churches throughout the country.
Before his imprisonment Dr. Sun was involved with house churches in Shanghai started by Watchman Nee, and while in Beijing attended the Christian Tabernacle pastored by Wang Ming-dao. Both Nee and Wang were also imprisoned for many years.
Regarding Freddie Sun's work in China, Dr. Bob Finley, Founder and Chairman of Christian Aid, said "I believe history will show that Freddie Sun's work in establishing and distributing financial support for 154 Bible institutes in China during the past 20 years has had a greater impact for the cause of Christ in that Communist country than that of any other single person or ministry. When I left China in 1949 we estimated that there were less than half-a-million evangelical Christians in the entire country. Today there are more than one hundred million. Most have been won to Christ by native missionaries working with local house churches throughout the country. And by far the greatest source for these native missionaries has been the 154 Bible institutes started and financially supported by Freddie and Dorothy Sun since 1992."
In Freddie Sun's absence, the link between Christian Aid and the 154 Bible institutes is being continued by Dorothy Chang Sun, the beloved wife whom he has left behind. A Memorial Fund in Memory of Freddie Sun has been established for those who wish to contribute for the support of Bible institutes in China. Contributions may be sent to Christian Aid Mission, P. O. Box 9037, Charlottesville, VA 22906. To give by credit card call 800-977-5650, or to give online go to www.christianaid.org.
Bill Bray is Special Projects Coordinator for the Christian Aid Mission. He may be reached for interviews, photos or more information, [email protected]