By Mark Ellis —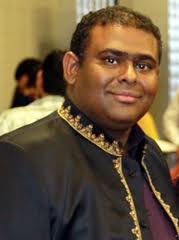 His Hindu ancestors were brought to the Fiji Islands to work the sugar plantations. As a teenager growing up in Fiji, an encounter with the forgiveness offered by Jesus Christ unraveled his beliefs about karma.
"I was born and raised in a very strict Hindu family," says Simon Gounder, founder of Global AIM, which ministers to Asian Indians in the U.S. and other countries.
After the British gained control over the archipelago in 1874, Simon's great-grandfather was brought from India as a contract laborer. "After he worked five years, he was given the option to stay in Fiji or go back to India," Simon notes.
He stayed, and the family settled in the small village of Rakiraki, in the northern portion of the largest island, Viti Levu.
At 17-years-old, a friend invited him to attend a Christian youth group meeting in another town. As Simon listened intently to the message, the belief system instilled by his family came under challenge.
"As a Hindu, we believed in karma," he says. "If you do good karma, you get to heaven. If you do bad karma, you will be punished. That's how I understood my life."
As the speaker talked about the problem of sin, Simon fell under conviction. "I had done many things that were not right," he admitted.
"I heard how Jesus can forgive sins and change lives," he recalls. Simon knew he needed the forgiveness of Jesus to wash over him and cleanse his soul.
He surrendered to Jesus as his Lord and Savior, and felt a powerful touch from God. "I gave my life to Jesus that night."
As the first to become a Christian in his village, Simon knew his conversion would not go over well in his family. Initially, he hid it from them. "For a few months nobody knew I was a Christian," he says. "When my parents discovered it, they were very upset."
"They tried to make me forget about Jesus Christ," he recalls. Then God used Simon to witness to them and something surprising happened – he led his entire family to Christ.
God gave Simon a heart for evangelism; he received training through the Assemblies of God, and helped to plant several churches on Fiji.
In 2002, he came to the U.S.and settled in Southern California. "My heart is to see Indians reached in the U.S.," he says. His ministry develops monthly fellowship gatherings among Asian Indian immigrants.
Mostly, he tries to build friendships with recent arrivals. "We help them find jobs, assist with immigration issues, and guide them. We show them the love of Jesus Christ."
If you want to know more about a personal relationship with God through His Son Jesus, go here