Chuck and Nancy Missler have relocated from the United States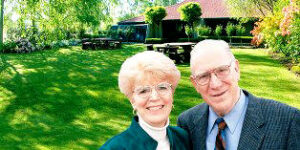 By Dan Wooding
Charles "Chuck" Missler, the well-known American author and Bible teacher, has moved with his wife, Nancy, from the United States to New Zealand, after many previous visits there.
Missler, founder of the Koinonia House ministry based in Coeur d'Alene, Idaho, has now established a new home for himself and Nancy in Reporoa, a small town located  in the Waikato region of the country.
A story published by New Zealand's Challenge Weekly (www.challengeweekly.co.nz) reports that Missler explained that both of them felt God led them to their new home and "there is a fantastic destiny ahead for New Zealand."
The couple built their home on the grounds of the River Lodge, a well-known venue with a 30-year history to New Zealanders for weddings and corporate retreats. They are planning a series of 'Study Retreats' on selected weekends, according to the newspaper.
The Missler's say the retreats will be "40 hours with 40 people to gain a 20/20 insight" on a subject of interest.
Also located on the premises is Lyonshead Media, a consolidation of advanced video and audio editing and publishing facilities which relocated from Idaho and Portsmouth, in the UK.
The Missler's plan to originate all their new materials from their new headquarters at the River Lodge. The presence of these facilities will permit visitors to carry away the DVDs of the subjects explored during their visit.
Missler is among the best-known Bible expositors in the world. His publications have encouraged believers to take the Bible seriously as an "extraterrestrial message from outside our time domain.'"
Challenge Weekly said that Chuck Missler had become impatient with those who maintain "that you can't prove the Bible," and draws on his professional background in the information sciences to point out that you can demonstrate the integrity and deliberate design of the 66 books we call the Bible, even though they were written by over 40 different authors.
It says that Missler insists that, "Once one discovers that every number, every place name, every detail has been skillfully and deliberately crafted, one then is confronted with a second discovery: that this deliberate design had to come from outside the dimension of time itself, since it anticipates history in advance – in such detail that it demands a supernatural origin."
He points out, "Since God has the technology to create us in the first place, he certainly has the technology to get a message to us. The challenge is how does he authenticate his message – so that we know it is really from him, and not a contrivance or a fraud? By relying on his unique vantage point outside our time domain. Only he knows the end from the beginning."
Chuck Missler's "unique perspective" is the result of a 30-year executive career in the high technology arena. He has served on the board of directors of over a dozen public companies, and has served as Chief Executive Officer of six of them.
Mrs. Missler is also well-known in her own right and her 14 books have influenced both men and women, and salvaged many marriages. 'Her Way of Agape' is a best-selling classic known throughout the English-speaking world.