'Who killed my daughter?'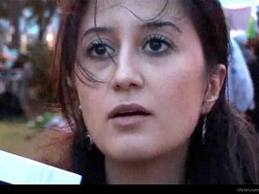 By Michael Ireland
Gelareh Bagherzadeh was an Iranian-born woman, newly converted to Christianity. She volunteered as a Persian-language translator at church and was about to graduate from university and had already found a job.
For five months, ever since Bagherzadeh, 30, was found in mid-January slumped over the steering wheel of her Nissan Altima steps from her home with a single gunshot wound to the head, family, friends and police have been asking why someone would want to kill her, according to www.mohabatnews.com .
"It's a unique case," says Houston Police Sgt. J.C. Padilla, the lead investigator on the case. "It's a senseless crime that happened to a young, intelligent female who had her future taken away from her. Someone out there knows what happened."
The fact that nothing was stolen from her car and that Bagherzadeh was an outspoken activist against Iran's Islamic theocracy, championed women's rights in the Middle East and had recently converted from Islam to Christianity, have spawned a host of theories about her murder (everything from an Iranian intelligence agency hit to claims of other foreign government involvement), according to Mohabat News.
Police say they have found no evidence linking the killing to foreign assassins, but are still investigating. In fact, they have no leads or suspects. Her family says that's not enough, and they would like to see participation by federal investigators.
"We believe she was targeted," says her father, Ebrahim Bagherzadeh. "Why or by whom? We don't know."
Last month, Crime Stoppers said it's offering up to $200,000 for information leading to her killer's arrest – the highest cash reward ever offered in the organization's three-decade history amid a rush of private donations, according to the Mohabat News report.
Thousands of murders go unsolved each year in the USA, and Bagherzadeh's case has been added to a growing tally of such crimes that wreck families, orphan children and rattle communities from coast to coast, Mohabat News reported.
"Indeed, of the 14,700 killings in the USA in 2010, 5,100 remain unsolved, according to FBI statistics. It's the unique nature of this case – the Iranian connection, Bagherzadeh's activist bent, what appears to be a calculated killing – that have made it resonate well beyond the confines of the nation's fourth-largest city," Mohabat stated.
Bagherzadeh (Bah-GER-za-deh) moved from Tehran to Budapest, then, in 2007, to Houston to be near her parents and younger brother, Ali. Her father, a petroleum engineer and researcher who once worked for the government-run National Iranian Oil, had moved to Houston three years earlier to develop several of his patents, he says.
Mohabat News says Bagherzadeh settled into her parents' two-story townhouse off Augusta Drive in a well-to-do section of the city near the Galleria Mall. She volunteered as a Persian-language translator at Second Baptist Church near her parents' home and spent time teaching children to play the piano, Ali Bagherzadeh, 27, says. She enrolled at the University of Texas MD Anderson Cancer Center, studying genetics. Fascinated by the TV shows CSI and 24, Bagherzadeh wanted to use her genetics training someday in a crime lab, her brother says.
She always wanted to help people," Ali says.
Bagherzadeh was slated to graduate in August and had already found a job at a genetics research center in Northern Virginia to be near her older brother, Kaveh, who lives in Maryland, her father says. She yearned to live in the cooler climates and changing seasons of the Northeast.
Bagherzadeh had an activist's streak, according to Mohabat. When Iranian presidential elections in 2009 were widely denounced as fraudulent and led to protests in Tehran and other Iranian cities in the "Green Revolution," Bagherzadeh co-founded the activist group SabzHouston and organized street rallies across the city protesting the Iranian government.
In a videotaped interview with the Houston Chronicle during one protest in 2010, Bagherzadeh appeared on camera to discuss the turmoil in Iran, but she wouldn't give her full name – identified only as "Gelareh" – "for fear of persecution," as the reporter described it.
She flew to New York to meet with Iranian activists and wrote essays on her Facebook page denouncing the mistreatment of Iranian women, says Kathy Soltani, the co-founder of SabzHouston. At street rallies, Bagherzadeh's voice was often the loudest, she says.
"She was very passionate about her Iranian roots and about what's happening in Iran," Soltani says.
Her mother, Monireh, says she worried that her daughter's activism would land her on a watch list that would prevent her from returning to Iran. Her daughter shrugged it off. "There was no fear in her whatsoever," Monireh says. "She would say, 'I'm the voice of the youth in Iran.' "
In its online report, Mohabat News goes on to say that in 2010, Soltani and Gelareh led a protest outside Houston's Al-Hadi Mosque, denouncing the mosque's alleged ties to the Iranian government. A year earlier, federal prosecutors had alleged a New York-based foundation with ties to the mosque was acting as a front for the Iranian government, according to court documents. No action was ever taken against the Al-Hadi mosque. Mosque officials did not return a request for comment for this story.
Dismayed at the oppression Islamic theocrats imposed in her home country, Bagherzadeh converted to Christianity last year at a ceremony at Second Baptist Church, Soltani says. (In Iran, converts from Islam to Christianity are often executed, she says.) Though Soltani says she thinks Bagherzadeh was targeted by someone, she finds it hard to believe Iranian agents would kill her rather than better-known activists. The lack of suspects or motive in the case has been excruciatingly frustrating, she says.
"It drives us all crazy," Soltani says. "We can't come up with any scenario that would explain why this would happen to her."
Mohabat News went on to report that on the evening of Jan. 15, Bagherzadeh drove to a classmate's house in nearby Spring, Texas, to study. Her mother called her around 11:15 p.m. to ask her whereabouts. Bagherzadeh said she was on her way home. Usually bubbly and energetic, Gelareh sounded uncharacteristically calm, Monireh Bagherzadeh says.
The news agency says Houston police received a call 30 minutes later of shots fired in the complex of the two-story townhouse where Bagherzadeh lived. Officers found her slumped over the steering wheel of her car outside a nearby garage door, the car's front wheels still spinning, says Padilla, the investigator in the case. Her assailant fired four shots through the passenger-side window. One of them struck Bagherzadeh in the head, killing her instantly, he says. Her purse, jewelry, iPhone and wallet full of credit cards were left untouched in the car.
"Somebody was waiting for her," Ebrahim Bagherzadeh says. "They had a plan for her."
Mohabat News says foreign-sanctioned assassinations – or attempts – on U.S. soil are rare but do happen, says Juan Zarate, a senior adviser with the Washington-based Center for Strategic and International Studies and former deputy national security adviser under President George W. Bush. He says Iran has been implicated in a number of them, but he does not know all the details of the Houston case to suggest Iranian involvement.
The news agency says the most recent case of Iranian espionage involves Manssor Arbabsiar, 56, a U.S. citizen living near Austin. In September, federal investigators arrested Arbabsiar – who had an Iranian passport – for allegedly plotting to kill the Saudi ambassador to the United States at a Washington-area restaurant. The criminal complaint named a co-defendant, Gholam Shakuri, allegedly a ranking member in Iran's elite Revolutionary Guards Corps.
Zarate points out that in 1980, an American Muslim convert allegedly working on the orders of the Iranian government shot and killed Ali Akbar Tabatabaei, a former Iranian diplomat and dissident leader, at his home in Bethesda, MD. The gunman, Dawud Salahuddin, fled to Tehran where he lives today. He is wanted by U.S. authorities.
The Iranian Interests Section in Washington, which acts as the de facto Iranian embassy since the United States and Iran have no official ties, did not reply to a request for comment for this story, the news agency reported.
"The Iranians are not shy in using political assassinations around the world to go after Iranian exiles and enemies," Zarate says. "They've proven it throughout their history."
Mohabat News says that ordering the murder of a relatively low-level activist on U.S. soil while Iranian diplomats work to sway United Nations and U.S. officials to ease international sanctions defies logic, says Rasool Nafisi, a U.S.-based Iranian-American scholar who studies the Iranian Revolutionary Guards Corps, an elite paramilitary unit created to guard the regime. He says such a hit would be out of step with Iran's usual way of doing things.
Nafisi says that although Bagherzadeh's murder might have the markings of a targeted assassination, Iran – if it were so inclined – would pursue much more important dissidents in New York and Washington before going after her. "To come all the way to Houston to hit a girl who is outspoken is absolutely not the thing they do," he says.
The news agency says that hasn't stopped conspiracy theorists from latching on to Bagherzadeh's case, despite the fact that police have uncovered no evidence to buttress their claims.
Fred Burton, a senior vice president of private security analysts Stratfor Global Intelligence, told www.CNN.com in March that the fact that Bagherzadeh traveled frequently to Europe could have made her a target of Iranian intelligence. "The Iranian intelligence service has a very strong network, a very strong collection network in Paris specifically," he told the news portal. "They are trying to keep tabs on their dissidents."
Several bloggers have gone even further, floating theories straight from the pages of an international thriller rather than a police blotter, the news agency stated.
The news agency goes on to report that a week after her death, Second Baptist Church held a memorial service for Bagherzadeh that drew several hundred visitors, Ebrahim Bagherzadeh says. She was buried in a cemetery near her brother's home in Maryland, fulfilling her wish to be in the Northeast.
Mohabat News stated that since then, the family has plastered her Crime Stoppers fliers across neighborhood Starbucks and other locales, handed them out to motorists at intersections and created a website for her (www.onlyjustice.org ), with directions on how to leave a tip. They've met with the mayor and the chief of police, who told the family that investigators are working tirelessly to find the killer.
The news site says that although they're grateful for the work of Houston police, the family hopes federal agents will soon get involved. Special Agent Shauna Dunlap, a spokeswoman with the Houston branch of the FBI, said her office is monitoring the case but won't get further involved until evidence points to a violation of federal laws. None of it has.
Mohabat News concludes that whether Bagherzadeh's killing was a botched robbery, a crime of passion or something more sinister, family members say they hope to find an answer soon so they can move on with their lives.
"Every morning, I look at the driveway where it happened and I think, 'Why?' " Ali Bagherzadeh says. "She was just being a normal girl."