By Mark Ellis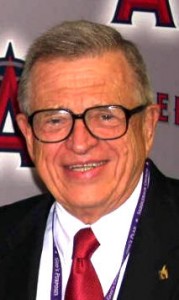 One of America's foremost conservative cultural commentators and a leading voice for evangelicalism, Charles "Chuck" Colson, passed to his reward today following complications related to a blood clot on his brain. He was 80.
His life was a testament to the transformational power of Jesus Christ. As special counsel to President Richard Nixon, he was deeply embroiled in the Watergate scandal and ended up serving seven months in prison for obstruction of justice.
Nicknamed Nixon's "hatchet man," he was part of the infamous Watergate Seven, and developed a ruthless reputation as one who would "run over his own grandmother" in pursuit of the president's aims. He also authored a 1971 memo that became known as "Nixon's Enemies List."
But as Colson awaited arrest and prosecution for his Watergate involvement, Tom Phillips, then president of Raytheon, invited Colson to his home and witnessed to him about Jesus Christ.
"I left his house that night shaken by the words he had read from C. S. Lewis's Mere Christianity about pride," Colson wrote in 2008. "It felt as if Lewis were writing about me, former Marine captain, Special Counsel to the President of theUnited States, now in the midst of the Watergate scandal. I had an overwhelming sense that I was unclean."
After Colson left Philips, he got into his car, but couldn't drive away. The conviction of the Holy Spirit came upon him and he began to weep, "I couldn't (drive). I was crying too hard – and I was not one to ever cry."
"I spent an hour calling out to God. I did not even know the right words. I simply knew that I wanted Him. And I knew for certain that the God who created the universe heard my cry."
At that pivotal moment, Colson was born again. "From the next morning to this day, I have never looked back. I can honestly say that the worst day of the last 35 years has been better than the best days of the 41 years that preceded it. That's a pretty bold statement, given my time in prison, three major surgeries, and two kids with cancer at the same time, but it is absolutely true."
The former counselor to the most powerful man on earth began to serve the King above every earthly king, which gave Colson's life renewed purpose. From that day forward, he knew he belonged to Christ and he was "on earth to advance His Kingdom."
When word got out regarding Colson's conversion, prominent newspapers and other media stalwarts such as Time and Newsweek ridiculed him, claiming his newfound faith was a tactic designed to reduce his prison sentence.
On March 1, 1974, Colson was indicted for conspiring to cover up the Watergate burglary. He ultimately pleaded guilty to obstruction of justice and served seven months of a one-to-three year sentence at a federal prison inAlabama. He was the first member of Nixon's team to be incarcerated in the Watergate scandal.
Colson's autobiographical work about this period of his life, "Born Again," was one of the bestselling books of 1976. Later it was made into a 1978 film starring Dean Jones as Colson and Anne Francis as his wife Patty. While in prison, Colson witnessed what he perceived as injustices done to prisoners and significant failings in the rehabilitation process. After his release, he felt called by God to establish Prison Fellowship (PF) in 1976, which today is "the nation's largest outreach to prisoners, ex-prisoners, and their families."
Throughout his life, he never forgot the promise he made to his fellow inmates during his brief stay in prison, that he would "never forget those behind bars."
At PF, Colson led efforts to improve prisoner rehabilitation, reform the prison system, and establish Christian outreach and discipleship programs for prisoners.  Colson criticized the "lock 'em and leave 'em" approach to criminal justice.
In 1977, a warden challenged PF's off-site discipleship program for prisoners, and refused to allow additional inmates to participate, saying, "If your program is so good, why don't you bring it inside the prison?"
Just as God used pharaoh's hardened heart to advance His program, the same proved true with Colson's ministry.
Three weeks later, 93 inmates attended PF's first in-prison seminar, which paved the way for hundreds of thousands of prisoners across the country to receive biblically-based teaching through in-prison seminars and Bible studies. Later, PF's influence began to spread internationally, and today, they have programs active in 100 countries.
As PF expanded, Colson observed the signs of a justice system in chaos: overcrowded and violent prisons, neglected crime victims, and communities beset by crime. In 1983, he formed Justice Fellowship (JF) to promote biblical standards in the justice system. JF volunteers successfully implemented reforms throughout theU.S., including victim-offender reconciliation programs, alternatives to prison for nonviolent offenders, and victims' rights legislation.
Increasingly, Colson sensed God's calling to comment on the culture through the written and spoken word. He penned 20 books, which have collectively sold more than five million copies.
His 1987 book Kingdoms in Conflict (updated in 2007 as God and Government) was a deeply insightful message to the Christian community, promoting a balanced relationship between church and state, with warnings about the dangers of an overly politicized or privatized faith.
"Jesus was remarkably indifferent to those who held political power," he wrote. "He had no desire to replace Caesar or Pilate with His apostles Peter or John."
Colson sought to build bridges in the church between conservative Roman Catholics and evangelicals, which led to some controversy within Protestant circles for his common-ground initiative, "Evangelicals and Catholics Together," which he wrote with Roman Catholic Richard John Neuhaus.
More recently, he was a principal writer and leading force behind a statement known as the "Manhattan Declaration," which called on evangelicals, Catholics and Orthodox Christians not to comply with rules and laws permitting abortion, same-sex marriage and other matters in opposition to their religious beliefs.
Toward the end of his life, he continued to promote a Christian worldview and inspired leaders to renew the church and revitalize the culture.
"The whole object of the movement is to penetrate culture," Colson said. "The frontal assault over the last several years has proven inadequate. What we must do now is be salt and light, rubbed into the culture so to speak, in such a way that the people and institutions around us slowly begin to understand that they have embraced the Lie."
"Our job is to expose the Lie and replace it with the Truth of a biblical understanding of all of reality."
On March 31, 2012, Colson underwent surgery to remove a blood clot on his brain after he fell ill while speaking at a Christian worldview conference. While some hoped for a full recovery, his condition worsened markedly on April 18, when his family gathered around his bedside.
Colson is survived by his wife, Patricia Ann Hughes, whom he married in 1964.
He had three children: Wendell, Christian, and Emily Ann.