By Grelan Muse Sr., Inside The Pew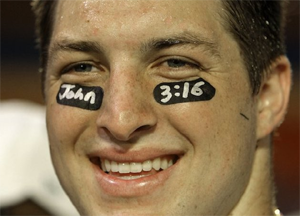 On March 3, the Denver Broncos quarterback was the featured speaker at Canyon Ridge Christian Church in Las Vegas, Nev. Tebow's visit attracted an audience of at least 20,000 at the church and more than 1,000 people logged in to the church's website for a live feed of the Saturday service.
It is amazing how God uses people to build his Kingdom. Regardless of one's attitude toward Tebow, the Almighty used this man to show how the Holy Spirit reigns forever. For years, God has used Tebow as a vessel to carry His word to the masses. He didn't even need the blessing or permission of a bishop or apostle to do his work. When God has something to say, He beckons even the common man.
The beauty of Tebow's planting is he faced critics without anger, just prayer. He respected even those who proclaim the same God and had choice words for him. Tebow heard the disapproval, but it didn't stop him. God uses ordinary common people to get his message across. The quarterback is a vessel and he accepted the call from God. He should be applauded for his willingness to let God use him. You might recall during his days at the University of Florida, Tebow placed "John 3:16" on his eye black. The move lead to an onslaught of scripture searches on Google – 94 million to be exact. The platform to spread the message was provided to Tebow by God, and he took full advantage.
Your way of spreading the gospel is probably not by placing scriptures on eye black, but all believers are called to spread the message just the same. The word must go out to all nations. Remember, the workers are few and the harvest is plenty (Matthew 9:37). No matter the process, do what you can to plant these much-needed seeds.
Pastor Grelan Muse Sr. is founder of Emanuel and The Mainline Ministries Inc. (www.emmnetwork.org), a 501 (c) 3 nonprofit organization, and Inside The Pew (www.insidethepew.net), an online Christian publication. Connect with us @PewTalk on Twitter and @Inside The Pew on Facebook. His e-mail address is: pewnews@aol.com
---
---