By Mark Ellis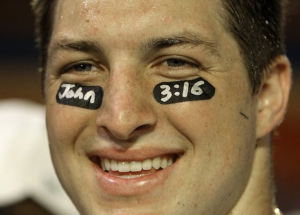 Tim Tebow's electrifying overtime victory over the Pittsburgh Steelers sent Denver fans into delirium. On the very first play in overtime, Tebow's pass to Demaryius Thomas at mid-field led to an 80-yard touchdown that clinched the game for the Broncos, 29-23.
It was the fastest overtime win in NFL history.
When the game statistics were totaled, several stats jumped out to his faith-filled fans that almost defy coincidence. Tebow had 316 total passing yards and averaged 31.6 yards per pass, which caused some to immediately think about one of Tebow's favorite Scriptures–  John 3:16.
In college, Tebow routinely scrawled Bible verses into the eye black beneath his eyes on game days. Indeed, at the 2009 BCS championship game, Tebow wore "John 3:16" under his eyes, a practice criticized by some commentators.
Yet, Tebow's artistic license had its impact: Google subsequently received millions of hits on the Bible verse during the game.
In response, the NCAA's Playing Rules Oversight Panel voted to ban words, numbers, logos or symbols on eye black, which took effect in the 2010 season and was soon dubbed the 'Tim Tebow Rule.' The NFL had already banned such artistry, so Tebow has been unable to display favorite verses this season.
But in a wry display of cosmic humor, God may have had the last laugh with Tebow's game-winning statistics. The unusual stats caused millions of fans to perform Google searches on the John 3:16 Scripture passage in the hours following the game, according to Yahoo Sports.
Twitter reported that 9,420 tweets per second were sent after Tebow's overtime win, which set a new sports record for the social media site.
CBS Sports loved the Tebow effect, because this game became the highest-rated wild card game for CBS in 24 years, with an estimated 42-45 million viewers.
Lastly, in another twist of mind-numbing numbers magic, John Ourand of the Sports Business Journal reported the final quarter-hour TV rating for the game was 31.6.