By Ken Walker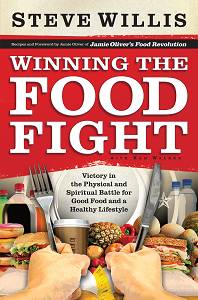 The pastor who became nationally known on the ABC TV show "Jamie Oliver's Food Revolution" found a passion for physical stewardship from real-life experiences.
Five years ago, Steve Willis lost a good friend during heart surgery. For years, his friend's doctor had told him to eat healthier and lose weight. However, even the pastor joked about overeating — until his friend died.
About the same time, Willis' youngest son was diagnosed with attention-deficit disorder. The youth got in trouble at school, didn't follow directions and did poorly on assignments.
After placing the youth on medication, the cure proved worse than the disease, said Willis, pastor of the Huntington-area First Baptist Church in Kenova, W.Va.
One day as they looked at their "zoned out" boy, Willis said he and his wife Deanna decided they had to do something else. Although their son was quiet, he was no longer his true self, Willis said.
As a result, Deanna started reading about natural, God-given solutions and eliminated sugar, soda pop, trans-fats and hydrogenated oils from their son's diet.
"I started realizing that how we choose to eat is a moral issue," said the pastor and author of the new book "Winning the Food Fight."
"If people are dying at an early age solely because they are overweight, are spending $200 a month on medications because they won't change their eating habits, and children are doing poorly in school because parents won't give them proper nutrition, those are moral issues," Willis said.
Willis set his concerns before the church in what the Centers for Disease Control had labeled the "unhealthiest city in America." As a result of First Baptist's efforts to combat obesity, Willis received a call from a producer at ABC who worked with renowned British chef Jamie Oliver.
Willis agreed to help Oliver tape six episodes of his show in Huntington in 2010, a venture that later earned an Emmy. During post-production, Oliver encouraged Willis to keep telling churches about proper nutrition.
"There were a lot of weight loss books out there but very few that deal with a moral and biblical philosophy of good food and physical exercise," Willis said. "Once we started controlling our eating habits, our spiritual lives started changing as well. I knew that our story had to be told."
Oliver volunteered to write the book's foreword, along with providing a few healthy recipes.
Willis hopes Winning the Food Fight will encourage church leaders to teach people that God cares how they treat their bodies.
He sees his son as a prime example of how proper nutrition can change the lives of those struggling with physical, mental and spiritual issues.
"Within a few months of improving his diet, he was better behaved, an 'A' student in math, and memorized his entire Awana [youth missions] book," Willis said.
"With sugar in his system, he couldn't remember John 3:16. It wasn't a miracle. It was just a conscious decision on our part to give our three children the nutrition God intended them to have."
The issue of nutrition also affected Willis as a child. In his book, the pastor describes growing up in a coal mining town and often eating fatty government commodities.
Despite a few improvements, the situation remains similar today, Willis said.
He pointed to Congress recently voting to qualify frozen pizza as a vegetable serving for school lunches because it contains a couple tablespoons of high-sodium tomato paste, nudging real vegetables from children's lunch trays.
Willis said the goal of his book is helping pastors who want their congregations to glorify God (1 Corinthians 10:31), mothers who still value family dinners and churches that want to improve the way they reach out to their communities.
"But most of all, it is a wakeup call for every American," Willis said. "There's a reason our nation is getting more and more obese. It's because our government has helped create a food system that is literally killing us with cheap food.
"The church has to get involved. Until our people understand how we are being manipulated into poor health, they will not be able to make the changes necessary for a true food revolution."
As a result of local teams that Willis has helped initiate, today Huntington:
— has a distance run nearly every weekend.
— has seen area churches sponsor diet and exercise accountability groups.
— has established a downtown culinary training institute that offers ongoing healthy cooking lessons.
In addition, First Baptist Kenova hosts healthy, affordable Wednesday night community dinners.
Another step their pastor envisions to combat obesity is "Food Fight Boot Camps."
If enough people respond, First Baptist Kenova will offer 60-day residential programs aimed at helping participants conquer food addictions through diet, exercise and spiritual nurture.
Among the efforts initiated to combat obesity, Willis said he is most excited about this one.
"Most weight loss camps help people lose weight but they do not address the underlying spiritual issues that led the person to overeat in the first place," Willis said. "As a result, the recidivism rate is more than 50 percent. That's what happens when you separate the Gospel from any social issue.
"At our camps, we will require applicants to find a local church accountability group to sponsor them with prayer and support. That way, when they return home they can continue to practice what we teach and pass it on to others."
The first camp is tentatively set to begin April 1 at Heritage Farm Museum & Village, an Appalachian historical attraction near Huntington seen on the History Channel's "American Pickers" in December.
"The church preaches about all the so-called seven deadly sins with the exception of gluttony," Willis said. "As a result, we've slowly allowed our waistlines to expand to the point that we are unable to love God with all our strength. Today we're at a point of a national crisis. The time for the church to get involved is now."
Ken Walker, a freelance writer in Huntington, W.Va., wrote about the filming of the final episode of "Jamie Oliver's Food Revolution" for Baptist Press, which led to him co-authoring Steve Willis' book, "Winning the Food Fight," released Jan. 2 by Regal books.