by a Pioneer in Thailand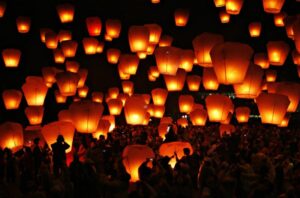 A small child pulled at his father's sleeve, and pointing to a dead bird, asked him what happened to it. "God took him to heaven," was the reply. After a moment, the child asked, "Why did God throw him back down?"
We recently saw the sky fill with fire-fed lanterns (Kome Loy) lifting up into the heavens. The Buddhist Thai believe that during this yearly lantern festival—Yi Peng, meaning 'second month'—they can send away all of their troubles and sins in this offering to Buddha.
It is believed that by sending off these lanterns an individual can send one's sins and bad luck into the air. Usually before the lantern soars into the sky, an individual will pray that one's sin or bad luck will be transported on the lantern and floated away high into the sky.
This morning out in our neighborhood, I saw everywhere—caught in trees, laying in yards and fields—the blackened remains of these offerings that have fallen from "heaven" back to earth, visual reminders of their attempt to win divine favor through "works." Is it a picture of God rejecting their offering?
Their lantern-releasing ritual is actually a declaration that they have chosen to reject God's offering! His perfect sacrifice that forgives all of their sins, if they would receive His gift—Jesus: Light of the World. Each lantern echoes a "no" to God's eternal gift of freedom, life and love. They continue to carry their heavy burdens and bring their yearly offerings that "can never make perfect those who draw near to worship" (Heb 10:1).
The lanterns are actually a wonderful picture of Jesus, who was our "Light-offering" that rose up to heaven, but wasn't rejected! He remains there to intercede for us, and sent His Spirit back as a promise of His return to bring us home with Him.
Pray for the Thais who feel such a heavy weight of all they need to "do" in order to please God and not be stricken by Him. One girl with whom we shared told us that she has to do the various offerings or it would worry her mother too much. This mixture of fear and filial responsibility are like a suffocating blanket of darkness over them. Ask for the Lord to set them free through the life-changing gospel message of forgiveness of sins through Christ.