By Dan Wooding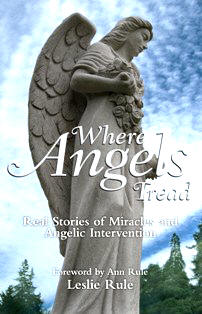 A recent Gallup poll revealed that 75 percent of Americans believe in angels. The 25 percent who remain skeptics may reconsider after reading "Where Angels Tread: Real Stories of Miracles and Angelic Intervention" (Andrews McMeel Publishing, $14.99, October 11, 2011).
Author Leslie Rule has written four previous titles based on supernatural themes, which have a combined net sales of over 150,000 copies.
To write "Where Angels Tread," Leslie spent countless hours researching first-hand accounts. The result is a collection of over 100 cases of miraculous events and angel encounters that will offer hope to the hearts of readers who seek comfort in troubled times.
With a foreword by best-selling author Ann Rule, "Where Angels Tread" is divided by themes, including "Animal Miracles," "Christmas Miracles," and "Angels on the Road." Rule also includes "In the News," sidebar articles where actual news accounts of angels and miracles are highlighted.
From the case of an elderly woman rescued from a burning house just in time, to the story of a four-year-old saved from pedaling into the path of a speeding truck, Where Angels Tread presents a variety of phenomenal cases of divine intervention that will astound even the most skeptical readers.
About the Author: Leslie Rule is a professional photographer and the author of seven books with supernatural themes. She has also written dozens of articles for national magazines, including Reader's Digest. The daughter of best-selling true-crime author Ann Rule, Leslie grew up in a haunted house where her lifelong fascination with the supernatural began. She lives in the Seattle, Washington area.
Where Angels Tread: Real Stories of Miracles and Angelic Intervention by Leslie Rule (Andrews McMeel Publishing) . ISBN: 978-1-4494-0773-5 . Price $14.99 ($16.99 Canada) Paperback: 5½ x 8½, 240 pages