By Mary Abdelmassih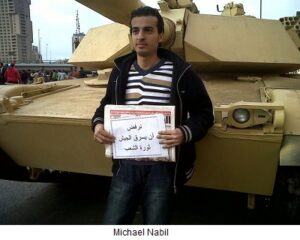 The Egyptian Military Court ordered imprisoned Christian activist and blogger Michael Nabil Sanad, who has been on a hunger strike for nearly 60 days, to a mental health hospital. Mark Sanad, Michael's brother, said that he visited him on Saturday in El Marg prison but was surprised to discover that Michael had been sent to  Abbasiya mental health hospital in Cairo. Both hospitals are known for their inhumane treatment of patients and are reserved for seriously ill psychiatric patients.
Michael  was sentenced to three years' imprisonment on 10 April 2011 on charges of "insulting the military and dissemination of false news about the armed forces" in his blog "Son of Ra." He had posted on his blog an article titled "the people and the army were never one hand." He went on a hunger strike August 23 to protest his prison sentence.
In an interview with activist Nader Shoukry, Dr. William Weesa, writer and activist, criticized the court's decision to send Michael to the mental hospital. Weesa said this is extremely dangerous because it violates Michael's civil rights, adding that "there are many people who were admitted to these hospitals by the security services, who were quite healthy when they went in but came out as a devastated human beings." He further said that if there was any kind of seriousness in the verification of Michael's mental status, he would have seen a psychologist, "but to remain under observation for a month and a half in this hospital, which has nothing to do with any kind of a hospital for health care, means that he will come out damaged psychologically."
Weesa appealed to the public "to stop this farce perpetrated against a prisoner of conscience."
Attorney Mamdouh Nakhla, head of Al-Kalema Center for Human Rights, wondered how the court could send Michael to evaluate his mental capabilities without a request from his family, noting that Michael will stay in the hospital for 45 days and may be subject to electric shock therapy. He described this as legal torture. "He will be discharged in the end after losing his mind and will be released due to insanity," said Nakhla.
After being subjected to pressure from US Senators, activists and human rights organizations, including Amnesty International, the Military Court ordered the retrial of Sanad. Michael did not attend the last session of his retrial on October 18, refusing to appear as a civilian in front of a military court, forbade his lawyers from representing him," said his brother Mark Sanad. The court appointed one of its lawyers to represent him during the hearing which, was adjourned to November 1, before a decision was made to send Dr. Michael Sanad to a mental hospital. November 1 would be the 70th day of Michael's hunger strike.
The European Union has also taken up his case, asking the Egyptian authorities to uphold international standards in protecting prisoners. A spokesman for Catherine Ashton, the EU foreign policy chief, said "The EU has been following with great concern the case of Egyptian blogger (Nabil). His health condition is claimed to have seriously deteriorated and if he is not immediately moved to facilities where he can receive proper hospital care, his life could be in danger." — AINA