By Michael Ireland
The New York Police Department (NYPD) has confirmed that megachurch pastor Zachery Tims died on August 12 in a New York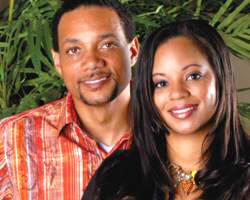 City hotel room. He was 42.
Tims pastored New Destiny Christian Center in the Orlando area since 1996. The church has grown to more than 7,500 members. He was survived by his four children.
Charisma News reports that a NYPD representative says "criminality is not suspected." Tims was found alone in the W Hotel by hotel security.
The Huffington Post (www.huffingtonpost.com ) reports that New York Police are investigating whether drugs were involved in Tims' death.
There was an envelope filled with white powder allegedly inside the shorts of the Rev. Tims Jr, according to the New York Daily News.
NYPD officials don't suspect foul play, according to reports, because his room was locked from the inside and none of his valuable belongings appeared to be missing. Police said his body showed no evidence of trauma, the HuffPost website reported.
Tims was in town for a meeting, and was scheduled to fly next to Texas, the Daily News said.
An autopsy performed over the weekend was inconclusive while toxicology tests will take weeks to complete, The Christian Post reported.
Drugs had a role in Tims' life before he became a Christian and founded the church with his then-wife Riva in 1996.
His biography on the New Destiny website said: "After Dr. Tims was miraculously saved, instantly delivered from drug addiction, and called into ministry, he determined to make his young life count by simultaneously earning two Bachelor's degrees."
Tims has four children from his marriage with Riva that ended in 2009 after he admitted to having an affair with a stripper, The Wall Street Journal reported.
A prayer service on Monday at New Destiny Christian Center drew 2,000 people. Tims' ex-wife Riva spoke and told the audience that he'd vacationed in Puerto Rico with his family a week before he died.
"We lost one of our leaders," said the Rev. Willie Barnes, a Baptist pastor who spoke at the service.
"His ministry was very, very powerful, especially to young people. He brought a different style of ministry, and it reached a lot of the younger generation because it wasn't so traditional," Barnes said.
CBNNews said Tims started New Destiny Christian Center in 1996 after overcoming a troubled past, including attempted murder charges and drug addiction.
His sermons have reached millions of people around the world, and he regularly appeared on the Trinity Broadcasting Network program "Praise the Lord."
"While words are difficult for me to find during this time of loss, I honor the great work he has done for the kingdom of God and pray for every family member, friend, associate and the incredible congregation of New Destiny," fellow megachurch pastor Paula White said of her "spiritual son" and friend.
The Christian Post reports that at Monday's church meeting, members participated in a time of worship, asking God for "strength and healing."
"Zachery's death may have caught us by surprise, but it has not taken God by surprise," Riva Tims, the ex-wife of the Florida pastor, said as the congregation gathered.
Riva, a pastor herself, also used Facebook to thank people for their support during this time. "Please continue to keep my family especially my children lifted in prayer," she said.
CBNNews said supporters have flocked to New Destiny's Facebook page to express their condolences over the loss of Tims. Well-known pastors and other leaders also responded with deep sorrow.
"My Heart is so heavy tonight," longtime friend and pastor Clint Brown said on his Facebook page. "It will take Orlando a long time to get over this. Dr. Zachary Tims you will never, ever be forgotten… I miss you so much. My heart is broken."
Tims' ex-wife announced on Facebook that funeral services will be held Saturday, Aug. 20.
Riva Tims addressed more than 2,000 people gathered at New Destiny Christian Center in Orlando, Florida, Monday night. She left the church in 2008 during a scandal and eventual divorce in which Zachery Tims admitted to an "indiscretion," told the congregation that she, her ex-husband and their four children traveled together to Puerto Rico the week prior to his death.
"God saw fit that we would have an opportunity to spend a few days together with him," she said to the crowd who never took their seats while she spoke. "He was able to fellowship with his sons and his daughters. He was able to take pictures with them."
Riva Tims, who started Majestic Life Ministries in 2009, encouraged the members to remain one body in this time of turmoil.
"Just as Dr. Zach and myself got together, God is looking for us to be one body," she said. "I stand before you tonight in all humility with the power and grace of God and also with the spirit that Zach left behind to press on and not give up," she added.