By Beka Mech —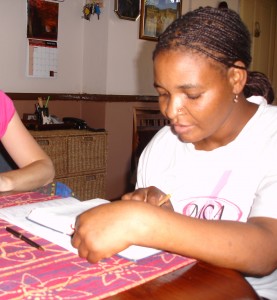 In the quiet of a home in the city of Maputo, Mozambique, Fatima Mandlate focused on the words in front of her. As One Mission Society missionary Aimee Howarth went over new sounds and letters in Portuguese, 35-year-old Fatima listened intently, memorizing the shapes and sounds of the letters, knowing soon it would be time for her to try to read the words on the page of her primer.
When Fatima was three or four years old, there was civil war in Mozambique. In fact, one of her earliest memories is hearing people say "the war has begun." So, as an eight-year-old, instead of learning in school, she was fleeing war violence and left home to live with her sister.
Her sister didn't have enough money to support her, so Fatima began working, selling coal on the street and eventually cleaning houses and caring for other children.
Now, 27 years later, Fatima is learning to read, and it is her faith in Christ that has given her the desire to do so. Fatima became a believer when the Holy Spirit touched her heart while someone read Psalm 46 at a church she attended. After that day, she so badly wanted to read so that she could read the Bible. She would always ask her kids to read Psalm 46 to her. Now since starting weekly literacy lessons with Aimee, she has reached a fourth-grade literacy level.
"That she has the desire to do this as a grown woman with a family is amazing to me," Aimee said. "She's very dedicated."
But Fatima said her desire to learn comes from Christ, and as Aimee translated, Fatima started sharing her testimony with the endearing words, "The way that God knocked on the door of our house was…"
Fatima went on to share that her husband Eduardo's brother Samuel was 16 years old and staying with them, when one night he was very, very late coming home. She and Eduardo were worried, and even though neither of them went to church at the time, Eduardo decided they should start sending Samuel to church.
Eduardo arranged for someone to pick Samuel up and take him to the OMS-related church in T3. Three weeks after Samuel started going, Eduardo told Fatima he wanted her to start taking their three children to church.
"He always knew it was good to follow the Word of God," Fatima said, even though her husband is still not a believer.
So Fatima began going with her children, but the ride to church was very bumpy and her middle child always got car sick.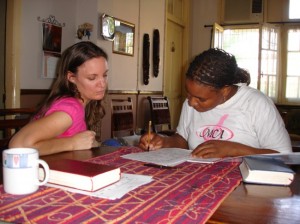 "Every week (my daughter) would vomit, so it wasn't pleasant to go to church," she said. "So I told my husband, 'I don't want to go to church because I always have vomit on me.' But he said 'no, you have to do this because you're the example to your daughter.'"
Fatima went to church like this for two years.
"Eduardo always respected church events," Fatima said. "For example, if Madalena came to get me for a women's event and I wasn't done cooking, he'd say 'go ahead; I'll finish it.'"
In 2000, many people lost their homes because of severe flooding. Madalena, a missionary from Brazil, shared Psalm 46 in church to encourage the congregation in the midst of their suffering. It was then that Fatima knew the Holy Spirit came into her heart, and she trusted in Jesus.
Whenever Fatima asked her husband why he wouldn't come to church, too, he told her he couldn't go because they didn't have a good door or lock, so they couldn't all leave at once or their house would be robbed.
When she and Eduardo got better doors and their house was more secure, Eduardo changed his answer to "God hasn't called me yet to go to church. If God calls me to go to church, I'll go." This has been his excuse for 13 years.
Fatima asks for prayer that her husband would be saved. She also asks for prayer that God can help her to learn more of His Word.
"I'm very happy because God blessed me so that now I can read a little bit," she said with a smile.