I met this morning with Jossy Chacko. His organization, Empart, has started over 4,000 house churches in north India.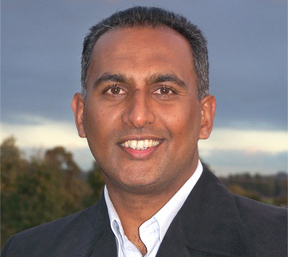 His heart was broken for the poor on a train trip to see the Taj Mahal on his honeymoon. A small boy named Raju was sweeping his train car very diligently. Jossy and his wife befriended the boy and (unbelievably) invited him along on their honeymoon. Over the course of two weeks the boy shared a remarkable sagacity for one so young about things beyond his years: sex trafficking, the selling of human body parts, and other unmentionables he had already witnessed.
Jossy says the movie "Slumdog Millionaire" was under-done. Conditions for the poor in the slums of India — about 718 million people — are much worse than portrayed.
At a critical point in Jossy's life he discovered this important truth: "The only reason for me to exist is to fulfill the Great Commission."
Jossy says that Patrick Johnstone first informed him that there are more people in north India who have never heard the Gospel than any other country in the world. Further, Johnstone maintains that north India will be the touchstone of success or failure of the missions movement in the years ahead.
Jossy refers to north India as the "cowbelt," because cows are protected animals. He says it has the second highest population of Muslims next to Indonesia. It's also the birthplace of Buddhism. As one might imagine, persecution is an ever-present reality. The Christian population in north India is only 0.05% in some areas.
Jossy started his ministry in 1998. He say, "If you want to transform a nation, plant churches." In addition to about 4,200 churches they have planted, there are another 3,000 in the pipeline.
Because seminaries are often not an option, a trained pastor will take in an untrained pastor to live with him for a year. Character development is stressed during this year, in addition to Bible training. "People fail most often from lack of character," Jossy notes.
Part of their in-home pastoral training also involves practical skills, such as making candles, soaps, learning to cut hair.