By Mark Ellis —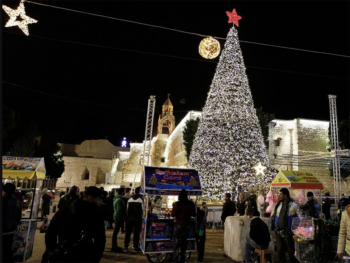 City officials in the West Bank city of Bethlehem, the birthplace of Jesus Christ, have announced they will eliminate all decorations celebrating Christmas, according to a report by the Jerusalem Post.
"Bethlehem Municipality crews announced the dismantling of Christmas decorations installed several years ago in the city's neighborhoods and removing all festive appearances in honor of the martyrs and in solidarity with our people in Gaza," the municipality wrote on Facebook.
A spokesperson for the city also told the Telegraph "The reason is the general situation in Palestine; people are not really into any celebration, they are sad, angry and upset; our people in Gaza are being massacred and killed in cold blood."
"Therefore, it is not appropriate at all to have such festivities while there is a massacre happening in Gaza and attacks in the West Bank.
"This year the situation in Bethlehem is unprecedented and the mood and vibes are extremely sad, and that is exactly what the world should see, and realize that these are not normal circumstances.
"Bethlehem should send out its own message of condolence and mourning."
Prayers and religious ceremonies will still be allowed to take place, according to the Post.
The city is majority Muslim. Seventy years ago, Christians made up 80 percent of the population, but now comprise about 10 percent.
Many Christians have fled due to persecution and religious harassment, according to Fox News. Christians make up slightly less than 2 percent of the population in Israel, according to Israel's Central Bureau of Statistics.