In an act showcasing the resilience and determination of the Israel Defense Forces (IDF),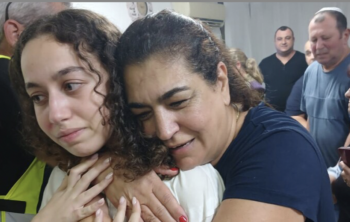 Private Ori Megidish, who had been taken hostage by Hamas terrorists on October 7th, has been successfully rescued and returned to her family. This triumphant outcome followed an intricate operation in Gaza, underscoring the unwavering commitment of the IDF and Shin Bet to protect every single Israeli citizen.
Private Megidish's liberation is more than just the return of a soldier; it's the rekindling of hope in countless hearts and a testament to the brave endeavors of our defense forces. Following her return, a medical examination confirmed her good health. Both the IDF and Shin Bet have reaffirmed their dedication to continue their efforts to ensure the release of any remaining hostages.
As news of Ori's rescue spread across the nation, the highest echelons of Israel's leadership conveyed their pride and joy. President Isaac Herzog voiced his emotion on the successful operation, emphasizing the continuous efforts of our security forces in protecting the nation in every terrain and weather. He praised the dedication with which they operate in Gaza, the north, and even in Judea and Samaria.
Echoing this sentiment, Prime Minister Benjamin Netanyahu highlighted this rescue as a shining example of Israel's commitment to its citizens. He saluted the Shin Bet and IDF for this profound achievement and warned those with nefarious intentions against Israel, emphasizing our relentless pursuit of justice.
In contrast, Hamas aimed to downplay the significance of Ori's rescue, suggesting it was a mere distraction from a video they released. Such tactics, however, can't overshadow the elation and relief experienced by the Megidish family and the entire Israeli community.
The joyous reunion of Ori with her family was palpable in the southern city of Kiryat Gat. Streets near Megidish's residence buzzed with happiness as neighbors and well-wishers celebrated with songs and fireworks. The emotions were best encapsulated by a local, Itamar Trobek, who likened Ori's return to a rebirth, noting the palpable change in the spirits of the Megidish family.
Conclusion: Israel stands tall and united, a beacon of hope, perseverance, and unwavering commitment to its people. Our values of community, protection, and resilience shine through in moments like these. Ori Megidish's rescue isn't just a testament to our defense forces' capabilities but a reflection of the heart and soul of the State of Israel. Every challenge we face strengthens our resolve, making our bonds even more unbreakable. The spirit of Israel lives on, thriving in unity and resilience. — Israfan