By Mark Ellis –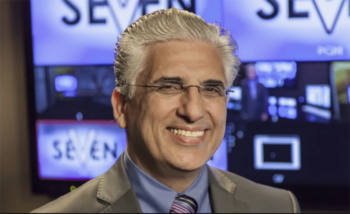 He was born a Muslim in Iran, and in his early years, very devout. But he became disenchanted when the repetitive prayers he invoked seemed to have no impact on his life.
"At the time of the revolution in 1979, I was a young student on the streets of Tehran shouting, 'Death to the Shaw, death to America,'" Hormoz Shariat told God Reports.
Due to his academic abilities, he later entered a PhD program at USC in artificial intelligence, with the goal of becoming a research scientist.
During his PhD program he developed an interest in spiritual things. "I wanted to know God, so I studied the Qur'an carefully, very objectively, like a researcher.
"Out of my own pride, I read the Bible. I wasn't expecting anything new. But when I started reading the Bible, especially the Book of Matthew, I realized no, there is a big difference. Before that, I felt all religions are the same. The more I compared the Koran and the Bible, there was much difference."
After a month of struggling with questions and comparing the two books, Hormoz visited The Church of the Open Door in downtown Los Angeles, once led by Dr. J. Vernon McGee.
"That's where I heard the gospel and responded," he reports. Hormoz surrendered his life to the lordship of Jesus Christ and was born again.
"My life changed dramatically, both internally and in my relationship with my wife," he says.
After graduating with a PhD in artificial intelligence, he began working as a researcher in Orange County, California. It was there he began witnessing and launching house churches. "A few people came to Christ, but when I found a job in Silicon Valley, and moved to the San Jose area, that's where many, many Muslims came to Christ through me and my wife sharing the gospel."
Hormoz made a transition from a research scientist to a church planter, planting churches in Sunnyvale, Sacramento, Fresno. and Walnut Creek
"After 9/11 we said, 'we've got to do something. We've got to go on satellite and share the gospel with the Iranians." An opportunity opened for one hour a week of satellite airtime from a secular channel in Los Angeles, broadcasting into Iran.
After helping SAT-7 and CBN start Farsi broadcasts into Iran, he developed his own 24/7 broadcast ministry, based in Dallas.
"That's where our media ministry grew and grew. I think God's special favor is on us in very fruitful in evangelism. Many have come to Christ since we have been on the air. And through that we have planted underground churches.
The conditions in Iran have made people very receptive to Jesus.  "It's very open heaven and fertile ground for the gospel for many reasons. That's why Iran has the fastest growing evangelical population in the world, according to Operation World.
"Once people come to Christ, they contact us. They want Bibles, they want teaching, so we got into training, and planting underground churches, and started a school online.
His ministry, Iran Alive, currently has over 3300 students in their online teaching and training programs. More than several hundred inquiries are fielded daily by 30 people working on all social media platforms, stationed in various countries around the world. VPN is widely used to get around restrictions imposed by the government.
"Our goal is to transform Iran with the power of the gospel, and a key verse for us is Jeremiah 49:38: 'The Lord says, I will set my throne in Elam.' (Elam is the name given in Genesis to the area comprising southwestern Iran today).
"We believe that we are moving in that direction really fast and that the Lord will set His throne among our people, and that Iran will be a Christian nation."