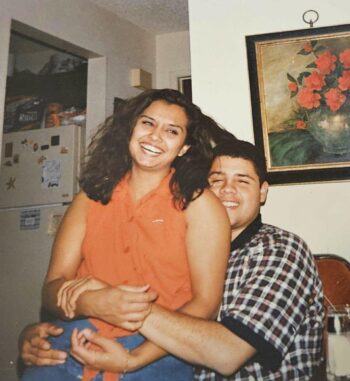 By Michael Ashcraft –
At first, Dan Canonge had no qualms about paying for his girlfriend's abortion. Only afterwards did a sense of guilt creep over him.
"Without even thinking about it, without hesitation, I paid for her abortion," Dan says. "I didn't even feel guilty about it until a little later. It became one of the things that made me aware of my sinfulness later on. Up until this point, I didn't have a conscience about what I did. But when I did that, I knew that I had done something wrong. It was a terrible choice."
He ultimately became aware of his moral responsibility. "Guilt and condemnation are very powerful emotions," Dan says. "The blood of Jesus is able to cleanse our conscience from dead works so that we can serve the living God. When you cross certain lines in your life, there's a lot of guilt that is carried with it. It can lead to self-hate. Jesus is that scapegoat that took the blood and cleansed us from the guilt of the past.
"It's pretty plain and obvious that you're involved in a murder," he adds. "But the blood of Jesus is so powerful and is able to cleanse your mind and your conscience of any person who has crossed these lines. You can experience God's love, knowing that his blood was shed for that purpose."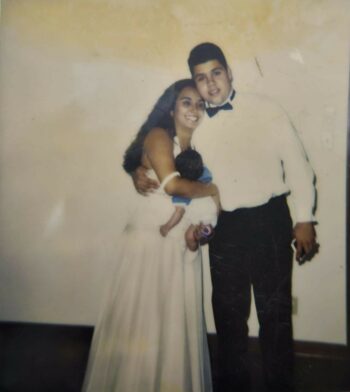 Dan Canonge saw Melissa at a car dealership and, instantly attracted, started asking her out on a date.
At the time, Melissa had two kids and was going through a divorce.
Melissa grew up in a heroin-running and heroin-abusing family that often moved between Texas and California. Her dad was the black sheep of a Christian family, and at times they attended church.
"When we were in church, my family was ok," Melissa says. "When we weren't in church, my family was crazy."
Because of the fast living at home, Melissa started hanging out at bars when she was 12. She started drinking and doing drugs at 15. She was pregnant at 16 and married at 17. She got into fist fights with her husband, trying to get him to work. She divorced at 20.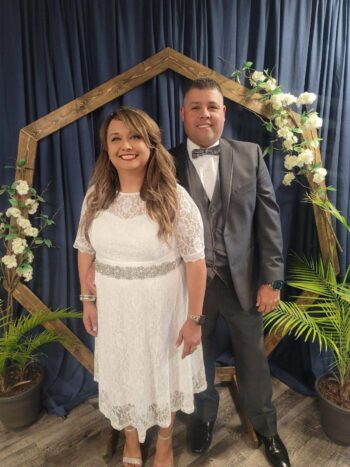 For his part, Dan, the youngest of six, suffered trauma at 8 when his parents separated in Galveston, TX. Dan and his brothers suffered a car accident. One of the brothers flew through the windshield. Dan woke up in a ditch.
When he was finally released from the hospital, he came home to find one brother was paralyzed. The family had to train him how to talk, eat and bathe himself. Already an alcoholic, Mom fell into depression and alcoholism, Dan says.
As he grew up, he moved with his brothers to Washington D.C., worked and used drugs trying to suppress the anger of abandonment. "I just began to party my life away," Dan says. "Looking back now, I realize I was in depression because I was in these party atmospheres and felt incredibly lonely – next level lonely."
At 19, he moved back to Corpus Christi, hoping the chill ambience would help him to change. "But I found myself slipping back into the same lifestyle," he says. Dan sold cars at a dealership.
That's where he saw Melissa and decided: "I need to collect her."
Dan was a marked contrast from her ex. He worked, sent gifts, invited her on dates – a "love story" kind of guy. "He was nice, he was kind," Melissa says.
But when she got pregnant, they precipitously aborted. Melissa acquiesced because her doctor, after attending her difficult delivery (the second child), had warned her that she could die if she had another baby. "The doctor gave me fear," she says.
Slowly, consciousness of guilt grew on them. Dan wanted to undo the wrong and thought that marrying Melissa would do the trick.
Then a cousin named Cindy told them she had "stopped smoking out" because she had gotten radically saved.
Melissa, who was addicted to romance novels, wondered why marriage wasn't as easy as her novels and after only one year and two months, wanted her second divorce. "I was a quitter," she says. When she went to church, she saw married couples "so happy," that she began to wonder about a missing element missing in her life.
When she heard a sermon about bitterness and anger, it was the final straw. She went to the altar and did what she had never done in all her life, she cried and cried and cried. She accepted Jesus into her heart. Dan got saved weeks later.
They found healing for all their guilt by trusting in Jesus as their Savior and Lord.
Dan and Melissa started serving in the church and became missionaries in Belize from 2009 to 2016 with the Christian Fellowship Ministries. Today, they pastor a church in Corpus Christi.
If you want to know more about a personal relationship with God, go here
About this writer: Michael Ashcraft is a  financial professional in California.