By Charles Gardner —

Amid the growing darkness in our land, and the rising tide of opposition to the gospel,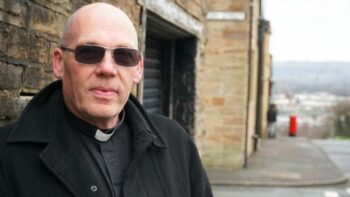 there are some shining lights breaking through.
One example is the so-called Church on the Street in the deprived northern town of Burnley, reaching out to the homeless, the hungry and the seemingly hopeless.
It was founded by Pastor Mick Fleming, transformed from a dangerous drug dealer to man of the cloth through a Damascus Road encounter with Jesus.
Teaming up with Father Alex Frost, he now offers food, clothing and hope to many afflicted by poverty, abuse, drug and alcohol addiction, and more.
Mick's amazing story is told in full in his book Blown Away: From Drug Dealer to Life Bringer (SPCK), which reads like the Acts of the Apostles as he recounts the many miracles he has witnessed.
His life spiraled into serious crime after his beloved big sister died suddenly of a heart attack, aged 20, only a day after he'd been raped, aged 11, in a park. He had no time to share his personal trauma before the whole family was engulfed by sorrow.
Covering up his painful childhood memories, Mick lived in a violent underworld for nearly three decades until one day, his gun loaded in readiness for a harsh exchange, his intended victim emerged with two young children – blonde girls of about five years old.
As he reached for his weapon, he was struck by the faces of these innocent kids and a blinding light came from one of the children's hands.
"It was white – brilliant white. For 15 seconds I couldn't see," he told Ed Thomas of the BBC. "It was like looking into the sun and I was paralyzed by it."
As he collapsed and suffered a complete breakdown, he pleaded with God to help him. He even tried to shoot himself. But the gun failed to fire. And when a policeman caught up with him at traffic lights and shot at him three times from close range, none of the bullets touched him.
He endured 30 years of hell, during which he was twice arrested for murder, three times for armed robbery.
All the time his mum was praying for him, and he gradually came to realize that Someone was looking after him.
Following the blinding light experience, comparable to the Apostle Paul's dramatic conversion on the road to Damascus (recorded in the Bible – Acts 9:1-9), Mick was initially sectioned under the Mental Health Act and admitted to the Burnley psychiatric unit, where he was treated with love and care and met 'Pastor Tony' who brought new hope to his life.
Though it was a slow process, his life was completely turned around as he built a close relationship with his new friend Jesus, eventually graduating in theology and sharing the love he has found with others struggling to survive.
He began by sharing sandwiches and coffee with the homeless outside McDonald's but, as his story became more widely known thanks to the BBC, he was inundated with donations enabling him to invest in a building from which to base his growing ministry. Even the future King and Queen (Prince William and Princess Kate) graced the church with a royal visit.
It was some years ago that he befriended a homeless alcoholic – listened to him, cared for him, helped him to get sober and be reunited with his family. The man died two years later, but his family were thankful they'd all been together. It was the man who had raped him! He had been able not only to forgive him, but also care for him.
Why? Because he knew he was forgiven. Jesus said: "If you do not forgive others their sins, your (heavenly) Father will not forgive your sins." (Matthew 6:15)
Mick's moving and miraculous story is not for the faint-hearted, but it is a sign that divine help is at hand for all who truly call on the One for whom nothing is impossible.
Mick clearly seeks direct guidance from the Holy Spirit, a gift from Jesus to all his followers. On one occasion, as he was sharing food outside McDonald's, a man fell off a bench, landing hard on the ground. He appeared to have no pulse, but Mick prayed that Jesus would raise him up – and he did!
He continues to witness much heartache too, with many dying of poverty, addiction and mental health issues, exacerbated by the Covid pandemic. But he keeps proclaiming the good news to the poor Jesus came to bring – to bind up the broken-hearted, proclaim freedom for the captives and release from darkness for the prisoners (see Isaiah 61:1).
If you want to know more about a personal relationship with God, go here