Pat Robertson, one of the most prominent religious leaders of his generation, as well as a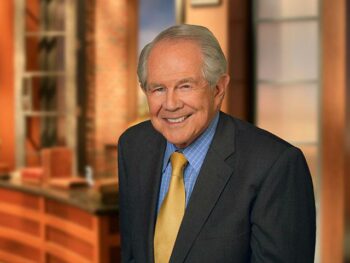 visionary entrepreneur and founder of the Christian Broadcasting Network (CBN), passed away on June 8, 2023. He was 93.
His remarkable journey was marked by unwavering faith, bold initiatives, and an enduring commitment to spreading the gospel worldwide.
Born on March 22, 1930, in Lexington, Virginia, Marion Gordon Robertson—affectionately known as Pat—was destined to leave an indelible mark on the world. As a young man, he demonstrated exceptional intelligence and ambition, eventually earning a Juris Doctor degree from Yale Law School. Despite a promising career in law, Robertson felt a divine calling and chose a different path, dedicating his life to serving his Lord and Savior Jesus Christ.
In 1960, Pat Robertson founded CBN, a groundbreaking television network that would become one of the largest Christian media organizations in the world. He envisioned a platform that would bring the Gospel of Jesus Christ to millions, utilizing the power of television to reach people across the globe. Under his leadership, CBN grew exponentially, broadcasting a diverse range of programs that combined religious teachings, news coverage, humanitarian efforts, and testimonies of miracles and transformed lives.
Robertson's influence extended beyond the realm of broadcasting. In 1977, he founded Regent University, with the aim of training the next generation of leaders who would integrate faith into their chosen fields. Today, Regent University stands as a testament to his vision, providing quality education to thousands of students and preparing them to make a positive impact in various professions.
Throughout his life, Pat Robertson was an outspoken advocate for conservative Christian values. He fearlessly addressed controversial topics, offering a staunch defense of his beliefs and challenging societal norms. His television program, "The 700 Club," became a platform for discussing important issues, featuring interviews with influential figures, inspiring stories, and thought-provoking discussions. Robertson's unwavering commitment to his convictions earned him both admirers and critics, but his impact on the cultural and political landscape of the U.S cannot be denied.
Beyond his work in media and education, Robertson demonstrated a deep compassion for the marginalized and vulnerable. Through his humanitarian organization, Operation Blessing International, he spearheaded numerous initiatives to provide relief and aid to those affected by natural disasters, poverty, and conflict. From delivering medical supplies to war-torn regions to offering disaster relief during hurricanes and earthquakes, Robertson's commitment to alleviating human suffering was tangible.
Pat Robertson's contributions to the world of Christianity and media garnered recognition and accolades. In 2006, he received the National Religious Broadcasters' prestigious Hall of Fame Award, recognizing his significant impact on Christian broadcasting. His trailblazing efforts also earned him a star on the Hollywood Walk of Fame in 2003, solidifying his status as a cultural icon.
Despite his many accomplishments, Robertson remained humble and steadfast in his faith. He often credited his success to the grace of God and viewed himself as an instrument in His hands. Robertson's dedication to prayer and his belief in the power of divine intervention were evident throughout his life, as he encouraged his viewers and followers to seek God's guidance in every aspect of their lives.
Pat Robertson leaves behind a legacy that transcends his life. His vision and determination revolutionized Christian media, providing a platform for millions to encounter the message of Christ. His educational initiatives equipped countless individuals to live out their faith in their respective vocations. And his compassion for the needy and his unwavering pursuit of justice inspired others to join him in making a positive impact in the world.