By Steve Rees –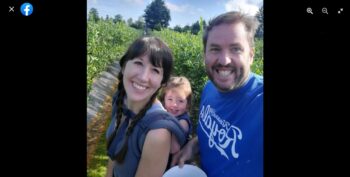 The founder of a ministry to sexually-broken people, a podcast host, blog writer and Christian resource to churches, Brady Cone's activities flow from his testimony beginning on a family farm in Nebraska where he grew up.
He was different from other boys, his brother and father. Looking at his dad and older brother, a preteen Cone felt he lacked something they possessed.
The feelings persisted throughout junior high school where, watching his boyhood friends show interest in girls, Cone grasped how he was different – drawn to boys instead.
Confusion and shame mounted as Cone grappled with the messages he'd heard at church. Some of the preaching led Cone to falsely conclude that he might be guilty of the unforgivable sin.
His sexuality and desire crushed any hope of God's love, Cone believed. In high school, Cone accepted his feelings and began to embrace his identity as a gay man.
"I was on this pendulum of emotions with God who created me in a way that condemns me to hell," says Cone, who became increasingly angry and bitter following his graduation from high school.
In college, he began to experiment with same-sex relationships.
"I remember walking away from every encounter, every same-sex relationship feeling more and more empty inside. I felt like I was on this hamster wheel, going faster. The more I have of this, the more I need.
"But every time I'd walk away from an encounter or same-sex relationship, I remember thinking this isn't doing for my soul what it promised to do. It's not making me feel loved," Cone recalls.
Thankfully, a group of godly men pursued and loved Cone, demonstrating repentance and the truths of the Gospel through their lives, offering him a glimmer of hope.
Still, Cone believed that telling his secret to friends who "love the person they think I am" would seal their rejection.
Cone was surprised by the reaction of one friend after pouring out his entire heart.
"He came across the room and gave me this big hug and said, 'Hey man, I love you. It's going to be okay because God's grace is sufficient. Your sin is no better or worse than my sin, and we're going to get through this together.'
"I was blown away that a Christian of all people could love me so well," says Cone.
Beyond his friend's love for him, Cone also saw Jesus offering His unconditional, undeserved love.
"So, I came to my knees at the cross of Christ, and surrendered everything to Him. My life instantly started to change," he says.
Immediately and slowly over time, Cone experienced transformation. "I'd love to say that God flipped the switch and took my struggles away; He didn't do that and it's not the way discipleship normally works," he says.
Instead, Cone started to grow in love with Jesus and His Word in which he discovered more of God's character written on its pages.
Over the course of several months, Cone walked away from the homosexual lifestyle, community, identity, relationships, and encounters.
"God didn't flip a switch and take me from gay to straight; He did something remarkable. He took me from lost to saved.
"I was delivered from the dominion of darkness to God's kingdom where I could live differently with the power of the Holy Spirit inside of me," Cone says, quoting Colossians 1:13-14.
"I could wake up every day and chose to please and honor God, regardless of my feelings," he says.
Within the LGBTQ community, identity is key, and it's based on feelings about sexuality and gender just like career, money, aspirations and desires define people.
"If you're suffering with same-sex attraction, transgenderism, sexual addiction whether gay, straight or bisexual, God is so much bigger," says Cone, who prays for people here: (69) PUSH – Pray Until Saturation Happens – Brady Cone – YouTube
As the founder of Calibrate Ministries (Home | Calibrate Ministries ), Cone says it equips churches to meet the spiritual needs of LGBTQ people and their families.
Cone, a seminary graduate, offers resources including his testimony (Testimony on Vimeo), podcasts (Home | Greatexchange (thegreatexchangepodcast.com) and blog materials (Blog | Calibrate Ministries) to help navigate Christians and LGBTQ toward a biblical understanding.
The so-called "gay Christian" is a trendy term used by a growing movement that includes popular teacher Andy Stanley. The use of the term, however, concerns Cone.
Within this camp, same-sex attracted people are encouraged to embrace gay identities, while holding to the biblical ethic that marriage is between a man and a woman, referring to themselves as "celibate gay Christians."
"As I have stepped into the lives of hundreds of men with same-sex attraction, in my experience the individuals who continue to identify as gay are more likely to have internal struggle, turmoil, and a lack of peace that leads them back to living as gay," says Cone.
He unpacks more "gay Christian" theology in a blog post and here: Celibate Gay Christianity on Vimeo