By Benjamin Gill —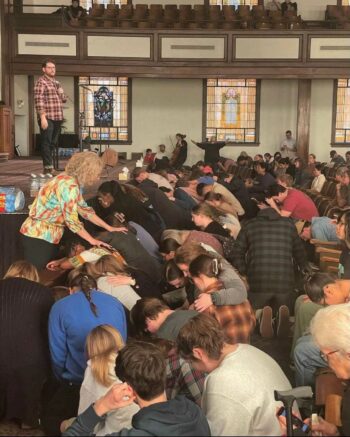 Humble repentance before the Father. Passion to worship Jesus. Hunger for God's Word. The peaceful presence of the Holy Spirit. The hallmarks of the Asbury Awakening. (Screengrab image)
On Thursday night, during the final public event of this outpouring at Asbury University, broadcast directly from the school's auditorium, those hallmarks were all on display as students publicly shared life-changing Scripture verses, worshipped with all their might, prayed fervently, and received the commission to go out into the world to spread the Good News of the Kingdom of Heaven.
So many sovereign God-incidences have been evident throughout this awakening. From the 1970 Asbury Revival connection, to the release of a Jesus Revolution movie that had been in the works for years, to the coincidence with the Collegiate Day of Prayer, no earthly power could have timed it all so perfectly.
And no matter where it goes from here, it's undeniable that this generation is full of souls who hunger and thirst for Jesus, and they WILL be filled.
Generation Z has been marred as the generation of anxiety, depression, and suicidal ideation. A number of students spoke directly during Thursday night's national event about their struggles with these issues, telling of the new measures of freedom and hope they've found—that Jesus is changing them from the inside out and they no longer need to let these struggles define who they are. It was genuine, and it was powerful.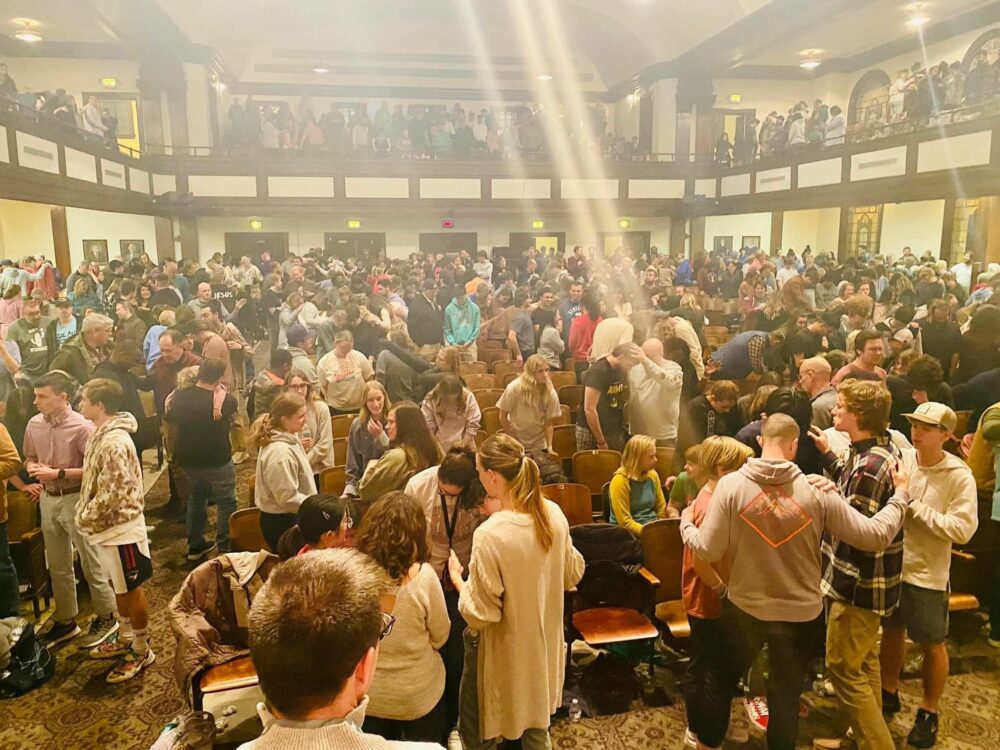 Adult speakers declared that God is "marking this generation" in such a way that the lives of those who have participated in this outpouring will never be the same. They'll never be satisfied by the empty distractions of this world—nothing but the presence of Jesus.
The evening was filled with moments of consecration, Scripture, worship, a focus on adopting every college campus for prayer, an expressed desire to reach the nations, and a salvation message in which a number of souls professed newfound faith in Jesus Christ.
When it was time for the scheduled event to wrap up, the adult leaders of the Collegiate Day of Prayer began to conclude the night with some very poignant thoughts and prayer. But after 350+ hours of continuous revival, there was still a lingering sense that God wasn't done. And He sure wasn't.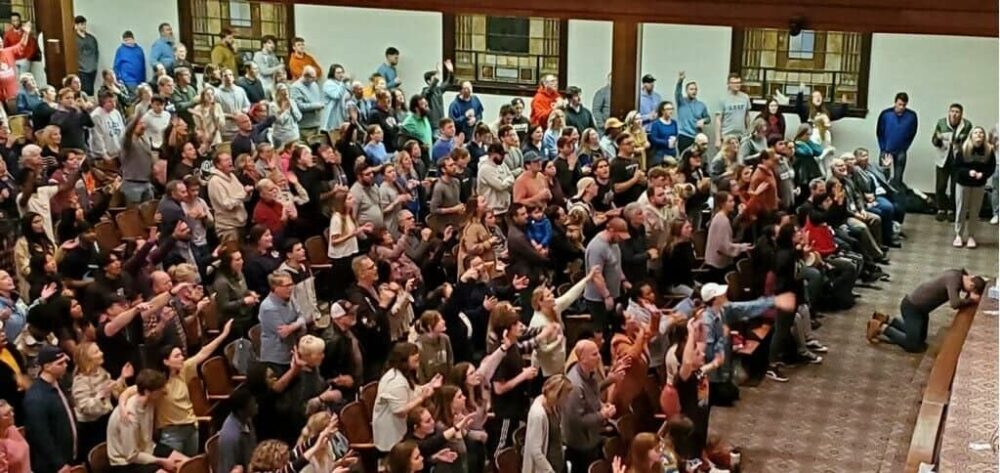 That's when the young people started chanting "Jesus! Jesus! Jesus!" It felt just like a glimpse of what Heaven will be like when all the saints and angels gather around the throne crying "Holy, holy, holy, is the Lord God Almighty."
After that powerful moment, the students just broke out into more and more and more worship, singing "Great Are You Lord." The impression was clear that they simply couldn't contain their love and gratitude for the King of kings and Lord of lords, pouring out their worship on the One who saved them, set them free, and gave them new life.
Some skeptics have said we'll just have to wait and see if this is really a move of God or not. I have a few thoughts on that.
First, an army can't go into battle if its members are wounded. To begin reversing the dual plagues of porn and anxiety, this phase of the awakening is like a holy hospital of sorts, bringing some deeply needed spiritual and emotional healing for this generation.
Second, the Biblical model couldn't be clearer—start in Jerusalem, then move out to Judea, and then to the ends of the earth. So, if God wants to start on Christian campuses, and then move out from there, I think we older members of the Church need to step up to the plate and pray fervently for the next phase.
I'm not good at predicting the future, but so far the awakening has already spread with power to multiple campuses, including Lee University, Samford University, Cedarville University, Texas A&M, Eastern Kentucky University, Valley Forge College, Hannibal-LaGrange University, and the University of the Cumberlands, among other locations.
It's clear to me that God is on the move, and this generation of young Believers-in-Jesus Christ simply isn't ready to quit the awakening just yet. They're too grateful, too full of new life and new hope to contain the true revival that's begun in their hearts. They're gonna keep praising Jesus no matter what—because they're not done, and God's not done either. — CBN News