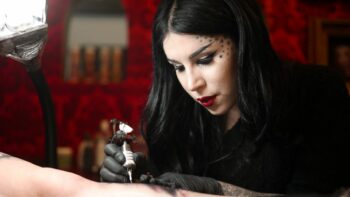 By Apryl Holmes —
Kat Von D, the black-lipstick-wearing Queen of Goth who seized fame as a tattoo artist, has thrown out her witchcraft books and covered her tattoos in a return to the "love and light" of her parents who were missionaries in Mexico.
"I got a lot of things wrong in my past," Kat wrote on Instagram in July. "I've always found beauty in the macabre, but at this point, I just had to ask myself what is my relationship with this content? And the truth is, I just don't want to invite any of these things into our family's lives, even if it comes disguised in beautiful covers, collecting dust on my shelves."
The diva of deviance came short of saying she accepted Jesus though. She has gotten married and had a child and now sees things through the lens of what is best for her child.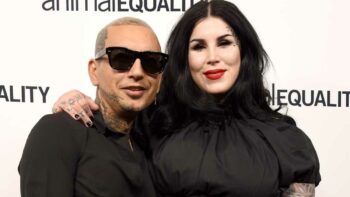 Katherine von Drachenberg was born in 1982 in Morelos, Mexico, to Argentinian parents who worked as missionaries in a rural community with running water and electricity. Her dad was a doctor with the Seventh Day Adventists. They lived in relative poverty with dirt floors, but Kat only has beautiful memories from that time.
"One of my favorite photos from our family album is one of me taking a bath in a plastic bucket," she stated on the List. "In this town, you were more likely to see a horse than you would a car. They were some of the happiest times in my life."
Her family moved to San Bernardino when she was six. In her early teens, she began to rebel against her Christian roots under the influence of punk rock culture and started getting and giving tattoos. She dropped out of high school.
When reality show Miami Ink looked to diversify its all-male tattoo artist show, producers tapped Kat, and she was launched into fame in 2005. Two years later, she returned to Los Angeles and starred in TLC's spinoff LA Ink.
Kat became an icon, normalizing tattoos. In 2008, Sephora capitalized on her fame to launch a make-up line with her, and she became a millionaire offering eye-liner, lipstick and foundation.
Meanwhile, she got sober. "Looking back at my wild drinking days, I really never imagined that I would be excited about being sober," she says on The Fix. "When you are on the other side of things, you have such a profoundly different perspective on life. On this side, you realize it's something to be celebrated."
Dropping the drink helped her work ethic. In 2008, she snatched the world record for tattoos given in a single 24-hour period when she inked 400 – a record held for six months.
After dating such flamboyant iconoclasts as Nikki Sixx, Deadmau5 and Jesse James, she finally settled down and married fellow Goth prophet Leafar Seyer (born Rafael Reyes), father of Cholo Goth music.
It may be that her marriage in 2018 has shifted her thinking from her rebellious days.
While she always said she would never have children, she gave birth to Leafar Von D Reyes later that year.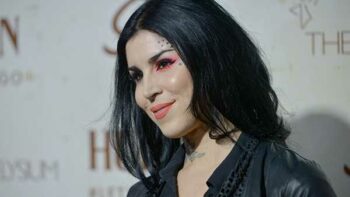 In July of 2022, Kat got rid of the books of witchcraft, magic spells and tarot cards from her library because they didn't "align with who I am and who I want to be," she says on IG.
"It's never been more clear to me that there is a spiritual battle taking place, and I want to surround myself and my family with love and light," Kat adds.
Kat has sold her shares in the makeup business, sold her tattoo parlor, sold her mansion in LA and moved with her family to Vevay, Indiana, in December 2020, complaining of California's "terrible policies, tyrannical government overreach, ridiculous taxing, amongst so much more corruption," according to Movieguide.
"We just felt the need to plant roots in a small town where there is nature, where my son can be free to play, and where we can eventually retire one day," she says.
Kat still dresses and stylizes her makeup by Goth standards. In 2021, she released her first single "Exorcism" from her album Love Made Me Do It. She appeared in The Lincoln Lawyer TV series in 2022.
She's embarked on covering up tattoos either with foundation of "blackout tattoos."
"It's extremely refreshing for me to see all the garbage, drunken tattoos I had scribbled all over my leg that I got before I became sober, be covered by sleekness and simplicity," she says. "I don't regret anything. I walked away learning."
If you want to know more about a personal relationship with God, go here