By Michael Ashcraft –
Full of youthful energy and untiring passion, German Gastellum wanted a bigger ministry challenge to pour his indefatigable self into, the mission field of Villa del Rosario, Colombia, just across the border from socialism-scourged Venezuela.
He was a spry 72.
You read that right. Seventy-two years old. That's when he started. Now, he is 75.
"God gives me the strength through the Holy Spirit," he told God Reports at a June Bible conference in Tucson. "And the body is healthy. I have been through sicknesses and Covid and all that, and I have survived that because of the high defenses I have. One, I have spiritual defenses; I have prayer and the power of the Holy Ghost working in me, and then I have normal defenses and they're kind of synchronized."
While the only adventure of many of his fellow septuagenarians is snuggling up in the overstuffed chair to watch Bachelor in Paradise, German is putting people half his age to shame by chasing souls in the rigors of missionary life.
"The other thing that keeps me healthy is working for God," he confides. "It's being a witnessing machine to people. God is pleased with that, when we take the gospel to the poor, when we go to the places that Jesus would go, then He meets us there. He says, 'Take my yoke upon you, for I am gentle and my burden is not heavy.'"
German (pronounced Her-MAHN) carries a burden for the Venezuelans condemned to languish under the withering chokehold of socialism. Poverty and hunger are so chronic and acute now that vast swathes of society are resorting to crime to feed themselves.
Colombia, which sent civil-war-refugees into Venezuela in the 90s, is returning the favor by welcoming Venezuelans into its country. The border is open, and Venezuelans walk for miles, barefoot and hungry, to reach the helping hands of Colombians in German's town, which sits on the Tachira River separating the two countries.
German gives them two kinds of food, one for the body and one for the soul.
"He is a compassionate man. He loves people," says Dal Basile, an American who supported his venture with a medical clinic in 2019. "We were on a bridge and he saw all these people crossing into Colombia, he said, 'Look at all these people!' And he started street-preaching to these people."
To minister with vigor, German eats healthy and takes rests, Dal says.
Now, his church in Colombia has launched two churches in Venezuela pastored by locals. Eighty people used to wait for him to show up and share the word. Where there is economic desperation, there is also spiritual hunger.
Twice, Lighthouse Medical Missions has supported German's outreach, in 2019 and then again in 2022, mounting medical clinics for Venezuelans with 5,000 meals prepared by World Central Kitchen.
German was in prison in 1976 when he received Jesus. In 1980 he was released and began attending the Tucson Door Church. Eventually he was ordained as a pastor, starting works in San Jose, California; in Chile; in San Diego, and in neighboring Tijuana.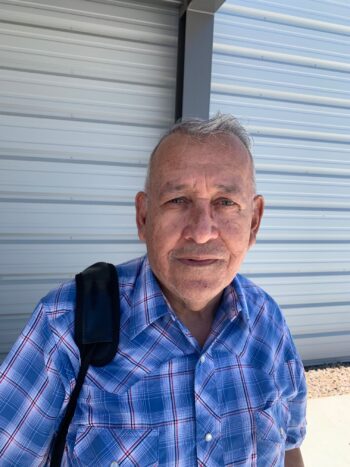 "No retirement in sight. I'm living for God," German says. "Even if I was sitting down in a wheelchair, I would still be preaching. We don't have retirement. We go until we're in the coffin. That's our retirement, in a coffin buried under ground."
 If you want to know more about a personal relationship with God, go here
About the writer of this article: Pastor Mike Ashcraft is also a financial professional in California.