By Heidy Hutchinson –
Steve Prendergast went from diehard Christian in his youth to a hard-to-kill "avid atheist" who drank, took drugs, and ridiculed his praying mom.
"I pretty much ran out of veins to inject crack cocaine with," says the former wrestler who crashed a vehicle while drunk and had a leg amputated as a result. "Thank God for a persistent mother. I credit a praying mother who prayed with my Aunt Linda for over 20 years."
After three motorcycle accidents, a boating accident, five overdoses and two suicide attempts, the boy who started on fire with God finally relented and came back to God.
Steve's start was in a Christian home with lots of love for the Word of God. But curiosity to see what the world had to offer seduced his heart.
"At age 16, I started to binge drink," Steven says on 100 Huntley Street video on YouTube. "I wanted to see what life was like on the other side of the fence."
When his young Christian girlfriend moved away, he blamed God and searched for "hypocrisies" in the church to justify his plunge into temptation.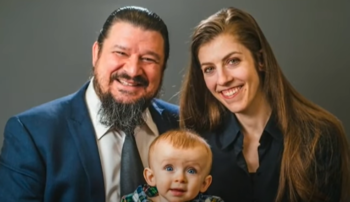 "I became a very avid atheist," Steve acknowledges. "I actively mocked people, including my mother, and friends of mine who had faith. It didn't matter what your religion was, I would still mock you if you believed in any form of a deity. That's how far I drifted away."
The bar scenes, the drug and alcohol culture began to fill his boat with water, sinking him ever deeper. He worked full time, and as soon as he got home, his phone rang non-stop; he became a drug dealer as well.
Steve took up wrestling and wanted to celebrate with his promoter by taking cocaine. A car crash followed, which resulted in the amputation of his leg.
Mom tried to get him to enroll in Teen Challenge's drug rehab, but Steve wanted "nothing to do with it" because they talked about God.
"I spiraled into addiction harder than anything ever before," he says. "I was now addicted to crack cocaine."
He went through detox five times but always relapsed. In 2007, his mother insisted on Teen Challenge again. He was cynical about it but relented.
"I thought I would go to Teen Challenge and wind up getting excused from the program," he says.
Instead, he was struck by the joy of the other guys in the program.
"They had this joy that I couldn't find through the poke of a needle or the end of a crackpipe or with a bottle," he says. "They just had this joy inside them resonating, and it was Jesus.
"I finally got to this point of submission where I said, God, take this. I'm tired. I'm tired of fighting, and I want what they have and that is you," he adds. "That started a journey. It did not come overnight. It took time. It was a walk in progress. God's still pounding the lumps out of me."
Steven went on to Emmanuel Bible College in Ottawa, Canada. He met and married Rachel and became a certified addictions counselor.
"Never give up. Never ever give up," he says
Heidi Hutchinson studies at the Lighthouse Christian Academy east of Century City in Los Angeles.