By Mark Ellis –
He grew up with godly parents, but youthful rebellion took him on a dark, perilous journey that brought him to the edge of the satanic abyss.
"I grew up in a Christian home and my parents planted a church when I was a baby," Nick Whelan told God Reports.  "So I was born into the church quite literally."
He "thinks" he knew the Lord when he was young. "I put my hand up in church plenty of times to receive salvation, but I had no idea what that actually meant. I would have thought that I was Christian. I had heard what He did for me, but I didn't know what that means."
"I thought I'm saved and I can go to heaven, so I could then do whatever I want, and still be good with God," he adds.
Like many teens, he began to rebel in high school. "I wanted nothing to do with what my family, or what my dad was devoted to. I got into drugs, sexual immorality, and I think that opened the door for the corruption to seep in and corrupt all areas of my life. It got to the point in high school where I was about to get kicked out if I didn't get my act together."
In his senior year, he was involved in a terrible car accident, and he briefly went to jail after police found drugs in the car." My parents went through my phone and saw everything that I had been doing. I was never home, just out in the world, living the way that I wanted to live.
"My parents said we'll give you one chance and if you don't live up to this standard, then we're going to kick you out."
Two weeks after the car accident, Nick broke his leg playing football. It was a serious break because circulation was cut off to part of his leg and doctors considered amputating a portion of it, but did not. He now has a metal rod inserted in his leg.
 "God's trying to get your attention; you need to repent," Nick's father told him.
Nick says he didn't understand what that meant or what God expected of him. "I thought I had to be perfect to come to Him so I had no desire to even try because I thought there's no way that's going to happen. But I was really deceived and really caught up with the desires of the world."
As he entered his senior year of high school that summer he decided he wanted to finish school and go to college. "I was driven for the American dream," he says.
First trip to South Africa
After Nick's graduation, he went to South Africa at the encouragement of his parents. Before Nick was born, his father, Lon, had taken a church planting course in South Africa and maintained friendships with Christians there who are part of the Joshua Generation Church.
"When in South Africa the Lord just encountered me in incredible ways and seemed like he was really reaching out his hand to me." Nick began to wake up to the idea that he was being deceived, that his mind had become a battlefield between the kingdom of light and darkness.
"The leaders of the church over here really ministered to me and said you're at a crossroads, you've got to choose between life or death."
Sadly, when Nick came back to America he reverted to the same destructive patterns. "I just kept going deeper into the darkness," he recalls.
"My parents caught me selling drugs after I finished high school and this was after the one more chance. So they said get out."
Nick pleaded with his parents. "Just give me one more chance," he said. "I'll stop doing drugs, I'll stop selling drugs, I really want to go to South Africa. I'll give my life to the Lord and I'll follow his will."
 Nick began to work two jobs to save money to return to South Africa, but sadly got another DUI during that period. He potentially faced a year in jail.
 "I was confused and deceived. I wasn't really born again. But I was trying to follow His will. I booked my flight ticket to South Africa in faith the day before my court date, and the Lord dropped the charges and that made a way for me to go back to South Africa," he explains.
On his previous trip, he had received a prophetic word about the charges being dropped, so he saw this as a fulfillment of the prophecy. "It really was just an absolute miracle. I went to South Africa and I was super excited about following God…I was forcing myself to try to do good. That only lasted so long. My effort ended up falling at the end of that year, and I went into the drugs worse than before."
After his return to the U.S. he worked in restaurants, and ended up selling drugs again. 'I found myself in super, super dark situations, having all the wrong people around me. And my house became basically a drug house," he recounts.
Still, God's grace pursued him. "I noticed the Lord was always there offering a way out. And I just wasn't taking it. I felt as if I was being carried by my parents' prayers and the prayers of the church."
In his descent into darkness, he felt God had preserved him in several dangerous situations, but he reached a point when God let go. "I did feel like the Lord handed me over to my sinful desires to learn that I need Him."
"I was so hooked on drugs, and I really tried to get off so many times, but it got worse. I thought I'm never gonna get free of this. I'm never gonna be able to live up to what God wants for me."
Battle with Satan
Nick found himself drawn into Satanist circles, and he began to negotiate with the devil. He felt like there was a price on his soul, and the devil was making an offer to him that involved material success, drugs and girls.
As Nick pondered selling his soul to the devil, he was surprised when Matthew 6:19-24 popped up on his phone.
Do not store up for yourselves treasures on earth, where moths and vermin destroy, and where thieves break in and steal. But store up for yourselves treasures in heaven, where moths and vermin do not destroy, and where thieves do not break in and steal. For where your treasure is, there your heart will be also.
 "The eye is the lamp of the body. If your eyes are healthy, your whole body will be full of light. But if your eyes are unhealthy, your whole body will be full of darkness. If then the light within you is darkness, how great is that darkness!
 "No one can serve two masters. Either you will hate the one and love the other, or you will be devoted to the one and despise the other. You cannot serve both God and money.
Nick realized he had to choose between two masters, but felt a weight of sin clinging to him. Could he ever find freedom? he wondered.
The next evening friends came over to his apartment. "This is a Satanist circle of friends and I found myself in a baptism ritual into that." Through drugs, they would open their hearts and lives to complete demonic ownership.
"I knew there would be no going back if I let it take over all the way. And I kind of found myself getting baptized into this, and wasn't really sure if I wanted to do it."
The leader of the group spoke in parables — dark, vulgar, twisted ones. He asked if Nick would "go to the moon" with them, which meant allowing the demons to fully take over.
Someone in the group taunted him. "You're only half-in. You're a grounder!"
Suddenly God gave him a revelation of what it would be like to be separated from Him for all eternity. "I knew there was a way God had made for me to get out of this punishment I deserved. And I knew I deserved it. I just would have spent eternity regretting that for the rest of my life. It was like a nightmare that you'd never wake up from. And I was paralyzed with fear in that moment."
Nick prayed silently to himself. Lord, just give me one more chance and I'll do anything to get out of this moment.
"I realized, Wait, it's not too late. I haven't given myself over to them yet. And I know that there's a name that has authority over darkness, so I called on Jesus' name."
If you get me out of this Jesus, I know that you're the Savior, I'll give you my life. I'll follow you with all my heart, I'll do whatever, I'll go to South Africa.
Nick overheard the guys the guys in the group saying if he didn't finish the ritual they would kill him.
Nick stood up, left the others in the living room, and went into his bedroom. "I prayed out loud. I called on Jesus."
Then something remarkable happened. As soon as he prayed in the name of Jesus, the satanic group abruptly got up and left the house! It was as if a bright light shined in their faces, and they fled into the night.
"I don't know what happened, but God came and broke in in a mighty way. He saved me in that moment."
It was 3 a.m.
Nick picked up the phone and dialed a local pastor, Peter Klause, at Heritage Church in San Clemente. Remarkably, Peter answered the call. "I asked him to come pick me up, or else I was gonna die. And he came to pick me up. And the next day, he got me on a flight out of there, I quit my job, left everything behind, and went to South Africa."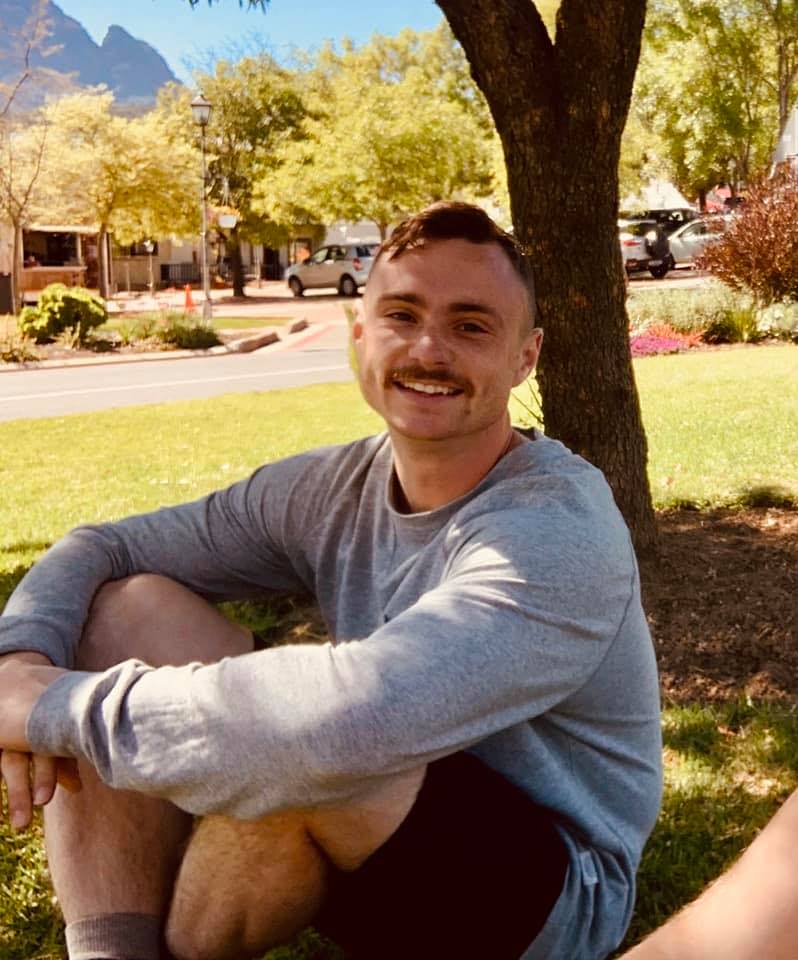 On his flight, Nick recognized there was no longer any middle ground for him to occupy. He must move wholeheartedly toward the light or live in darkness. "I realized, any door that I left open for the devil, he's gonna come at me with full force."
His first few weeks in South Africa, he focused on closing every door from the past, getting out of contact with people who were bad influences, and devoting himself to the Word, because every night he was having nightmares.
"I started to run to the Lord for protection from those nightmares. Jesus slowly began to open my eyes to who He is. And I just fell in love with Him.
"I've been washed clean, and I'm good with God. And I've been granted peace with the Father.
"I will never go back."
If you want to know more about a personal relationship with God, go here