(Editor's note: Annie is blind.)
By Annie Landau –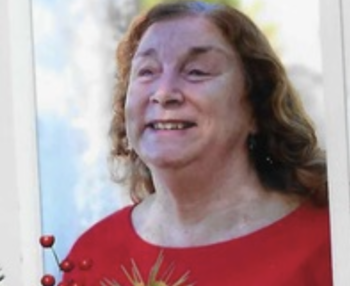 Just before 6 pm I was doing some last-minute things before going to a homeowner's meeting. For some reason, I felt compelled to replenish the toilet paper in the upstairs bathroom before I left. I went into the guest room upstairs to get the toilet paper and as I started to walk toward the bathroom, I felt disoriented. I backed into the bedroom, but I did not check my surroundings.
I started to walk forward and rather than winding up in the bathroom I tumbled down the stairs with three rolls of toilet paper in hand!
I could not believe what was happening. I immediately picked myself up and discovered I was bleeding on my forehead. I grabbed my phone, unlocked the front door, and went outside.
I called my neighbor Frank and told him I had an accident. He and his partner Paul quickly came over to assess the carnage. Frank cleared the blood off the floor and Paul cleaned the blood off of me and gave me paper towels to put pressure on my wound.
By then, my right arm began to hurt and stiffen up. About that time, I noticed my next-door neighbor Amber was locked out of her house and she was kind enough to come over and join the rescue team. I am so glad that she was there because she helped me go upstairs and change my clothes before I went to the hospital.
It took four hours of waiting before they would place me in a room in the Emergency Department. Frank stayed with me until 3 am because I wanted someone there while I was treated with sutures and a splint – my wrist was actually broken (darn toilet paper!).
I was so grateful Frank stayed with me throughout that experience. I stayed in the Emergency Department until the next night when they were able to transfer me to a different hospital where surgery would be performed to set my wrist.
Friends came to visit me in both hospitals and the nurses were very kind to allow more than one person in the room. My children called from Austin to check on me throughout my adventure. I am still amazed that all I broke was my wrist – so much more could have happened. I could have broken my neck! After three days in the hospital, I was discharged to return home.
So where was God in the midst of this? He was in the hands and feet of my neighbors who came to my assistance without hesitation. He was in the skilled hands of my surgeon who put my wrist back in working order and stitched up my head.
He was in the friends who visited and in the kindness of the nurses. He was in the voices of my children. He was in the provision of meals brought by so many and in the therapy I received to make sure I would be able to use my wrist again.
Most of all, He was right next to me at every turn, holding me up and assuring me all would be well. Even the toilet paper survived! (And so did my sense of humor!).
I am grateful for his presence every day. He is there through our ups and downs, directing and encouraging us as we follow Him.
This year marks 15 years since I moved into this house. What better way to celebrate than taking an impromptu tumbling class?
If you want to know more about a personal relationship with God, go here